complete guide to creating wedding invitations
As well as being a decorative introduction to your big day, the wedding invitation is a crucial communication tool. Read on for a practical guide to writing, styling and sending out your wedding invitations.
when to send wedding invites
Wedding invitations should be sent out at least five months in advance of your wedding day. Sending out invites early will ensure that you can gather crucial guest information for your venue, accommodation and suppliers well in advance. It will also limit any last-minute stress and ensure that you are not paying extra for any guests who cannot come.
Related articles: how to phrase invitations creating easy wedding invites wedding guest list trackers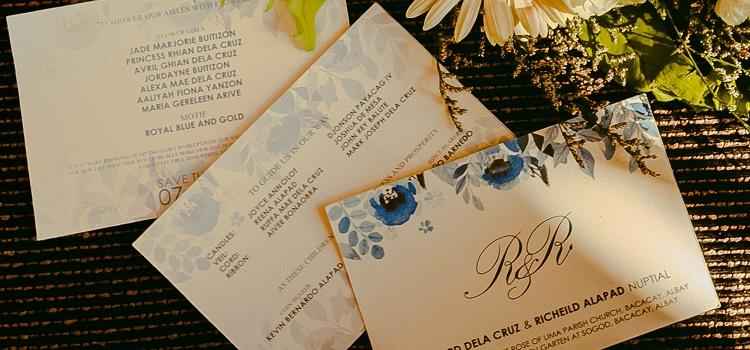 best method to create wedding invitations
Creating a wedding invitation online is the quickest and easiest option. Online stationers and websites have a wide variety of templates or fully bespoke options for those who want to create something unique. The end products are similar in quality to specialist companies but much cheaper. Below are three tried and tested providers:
Vista-print: This website has options for both bespoke and wedding invitations that can be customised in over 50 designs.
Papier: This website has the same bespoke formats of Vista-print, but also offers 'wedding suites', which enable you to use the same design for all of your wedding stationery.
EM Papers: A completely different concept where you pay to download a template then can amend it and print it for yourself free of charge.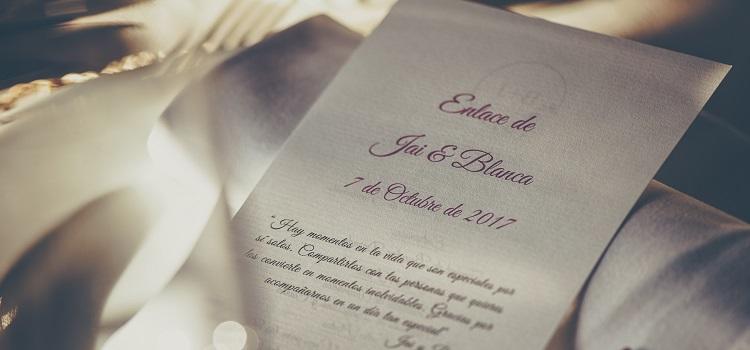 wedding invitations what to include
Wedding invitations should include all of the details outlined below: This will save time on those inevitable questions, which wedding guests always have.
Date: Include the day of the week for weddings not taking place on a Saturday.
Venue with full address
Running order: Guest arrival time and when the reception will finish.
Menu options
Accommodation options: Recommended hotels or block booking details
A short note if children are not allowed: This way, you can avoid awkward conversations.
Wedding present details: Money or gift list
Email address for any questions
RSVP date: It is recommended to give guests three weeks to respond and to make this in advance of venue cut off dates.
RSVP cards what to include
This card should gather all the information needed and have a clear format to avoid confusion. RSVPs should include: who exactly is coming, menu choices for each guest and if they are getting transport (if you are arranging this).
Related articles how to phrase invitations creating easy wedding invites guest list tracker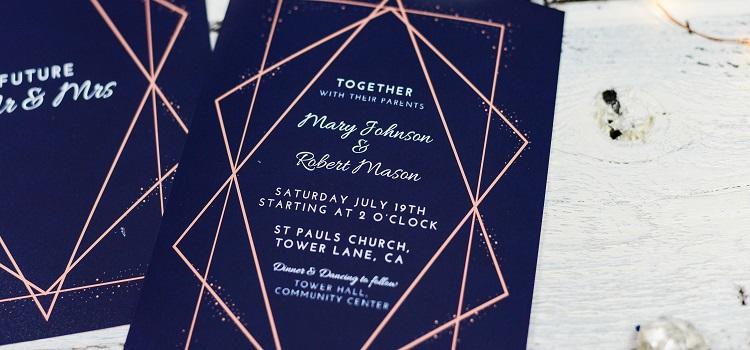 how do you design wedding invitations?
choose a wedding invitation size:
Wedding invitations need to be big enough to contain all the details in a readable font, but still, be delivered by standard class postage. A widely recommended size is 182 mm x 117 mm (A5). For the RSVP card, it is recommended to make this slightly smaller, so it fits in the envelope neatly. A standard RSVP size card is 107 mm x 139 mm.
pick the wedding invitation orientation:
Wedding invitations can be either portrait or landscape but most commonly are portrait due to the amount of short sentence information included. RSVPs are best created in a landscape format so that the menu options are laid out side by side.
design the wedding invitation layout:
Wedding invitations usually are either a folded card or flat card with additional inserts. Folded card options are slightly more expensive but have the benefit of standing up so they can be more visible.
wedding invitation design tips
Below are top tips to ensure your wedding invitations impress your guests:
Incorporate the colours and theme of your wedding to give guests a sneak preview of what is to come.
Use font styles and colours that contrast the background, so no precious detail is lost.
If using pictures, make sure that they are a high resolution so they will print in high quality.
Simplicity is best when it comes to text backgrounds.
Co-ordinate all wedding stationery and last minute touches for a sophisticated look.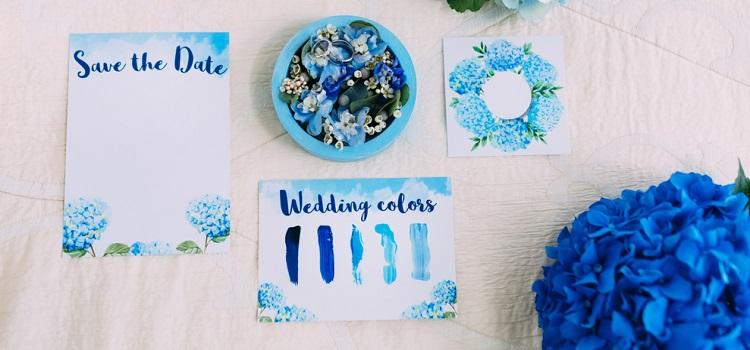 how to create wedding invitation envelopes effortlessly
All of the online stationers and websites will either include or offer envelopes as part of the purchasing process. It is recommended to buy these as they will be perfectly sized for your invitations.

 Once you have your invitations and envelopes, addresses need to be added for postage. To speed this process up it is to print labels from your guest list tracker by completing a 'mail merge' in Word.
Next step: creating a guest list tracker