how to create a wedding invitation
As well as being a beautiful item of stationery and last touches, the wedding invitation is a crucial communication tool. Done right your invitation will enable you to plan numbers, menus and give wedding guests everything they need to organise.

Below is a practical guide to writing, styling and sending your wedding invitation.
When to send wedding invitations
The timescale for wedding invitations will vary according to other factors including; venue booking, registrar/ceremony confirmation, any block booking of hotels.

An approximate timescale should be approximately six to seven months in advance of the day, but as long as your save the date has been sent do not be concerned if it is later.
wedding invitations: Information needed
To ease confusion and follow-up communication, it is crucial that you have assembled the key information that guests will need. While this may mean your invitation goes out slightly later, it is essential to ignore the impulse to 'just get it done'.

The save the date will already have secured the attendance of most of your guests, and it is vital that they get all the detail needed in the next communication. This will save time on those inevitable questions, which wedding guests always have.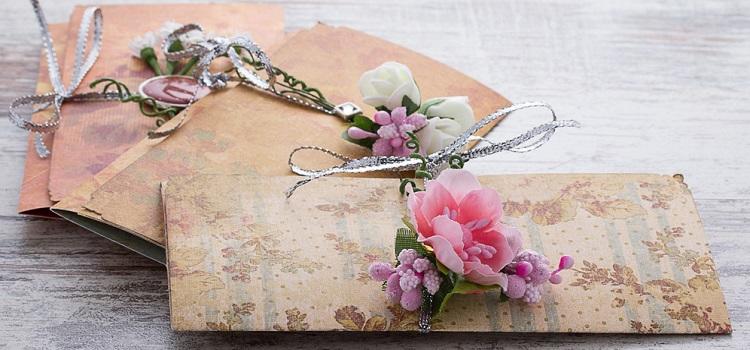 wedding invitations: Details to include
Outlined below is vital information that must be included and tips to ensure everything runs smoothly on the day
Information for the front of the wedding invitation
Date: Give day and date with year, especially for weddings taking place in the week.
Venue with full address: Postcodes are now mostly required for car drivers.
Start time: This should be the time you want everyone to be there; not the ceremony start time
Information for the reverse of the wedding invitation
Brief running order: Only need arrival time, ceremony start time, finish time. Nothing more is required.
Menu options: Give options or if there are no options just merely state this (do indicate the vegetarian option)
A short note if children are not allowed: This way you can avoid awkward conversations, and everyone will get the same message.
Wedding present details: It may seem forward to be including this, but it will make it much more explicit to guests if you have a) a wedding list or b) a money fund.
Information for the bottom of the wedding invitation
RSVP date: It is recommended that guests have a few weeks to respond but not too long to forget about it. The optimum period is three weeks. Do make sure that you give your guests this soft cut-off and that this is in advance of any venue timescales.
An email to send questions to: you can expect to have at least a few questions, but by directing these to an email rather than just letting people call you will mean they are prompted to re-read before going to the effort of writing something.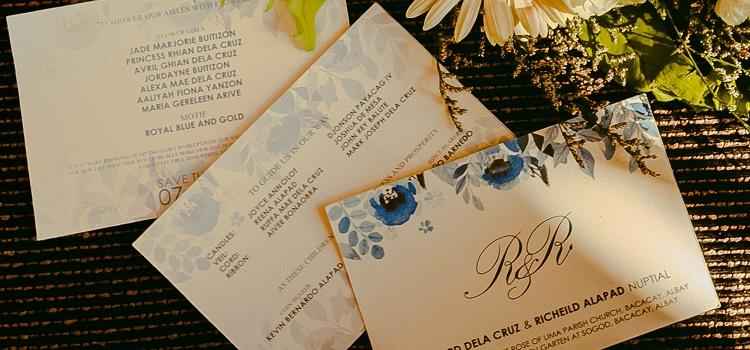 wedding invitation inserts
RSVP cards
This should include all the questions you need to be covered off in one go. These might consist of; who exactly is coming, menu choices for each of the named people, if they are getting transport you have arranged, if they are arriving by car.
wedding guest accommodation
This should include any pre-reserved hotels with instructions about how to book using your wedding details (usually this is by calling the hotel directly). If you are not pre-booking, it is worth giving guests a few options and outlining the best route to the venue from here.
Transport and direction details
This should add details of any pre-booked transport/transport between venues if required and transportation at the end of the night. If no transport is pre-booked, it can be worth including taxis/getting to the area by train and outlining if there is parking at the venue.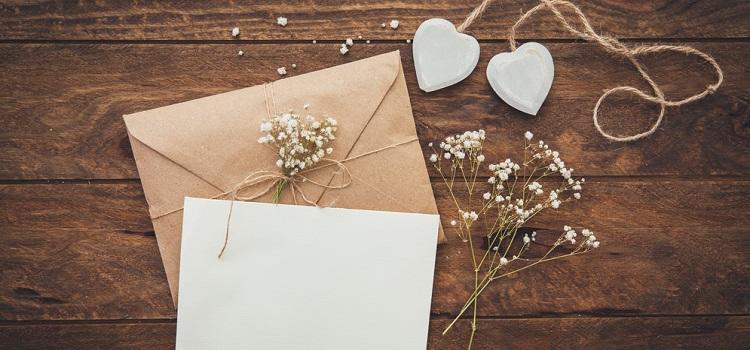 Online wedding invitation creation tools:
There is an abundance of brilliant online wedding invitation ideas and templates that can be just as smart as those made by specialist wedding invitation companies. Therefore, it is highly recommended to pick this option. Below are three tried and tested providers:
Vista-print: This website has options for both bespoke and customisable wedding invitations in over 50 designs. Each template can be adapted by adding pictures, changing wording and font colours.
Papier: Papier follows the same bespoke and customisable format of Vista-print and does also offer 'wedding suites' that enable you to efficiently use the same design for all your stationery and last touches.

EM Papers: A completely different concept where you pay for a template, can download and amend it and print on your computer for free. This method means more cost on buying card and envelopes but can suit those wanting to have more control and complete the process very quickly.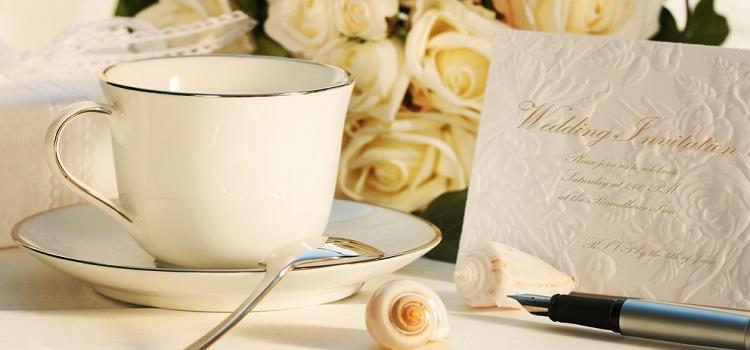 wedding invitation size and format
The main invitation needs to have enough room to contain details but still be delivered by standard class and small enough to fit on your guests crowded note-boards or fridges. Below are some tried and tested sizes that work nicely:
Size for the wedding invitation card:
Can be either portrait or landscape. It should either be a folded card or flat card with additional inserts. Recommended Size 182 mm x 117 mm
Size for the wedding insert cards:
Can be either portrait or landscape. Should be a flat card that is the same for smaller than the invitation. Recommended size 107 mm x 139 mm.
Size for RSVP card:
Can be either portrait or landscape. Should be a flat card that is the same for smaller than the invitation. If possible, it is worth including a self-addressed envelope to make rsvp even easier to do. Recommended size 107 mm x 139 mm.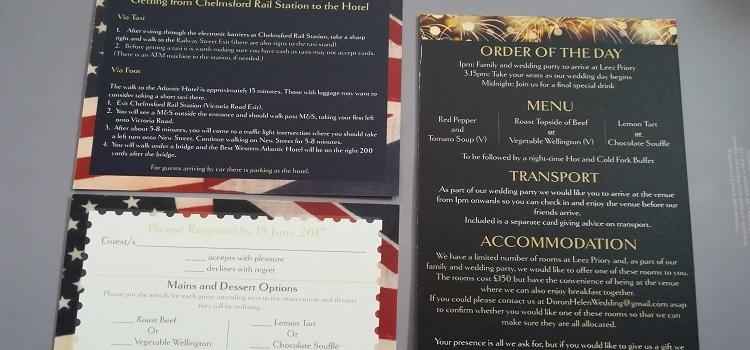 wedding invitation: Style tips
Incorporate the colours and theme of your wedding to give guests a sneak preview of what is to come
Use font styles and colours that contrast the background, so no precious detail is lost
If using pictures, make sure that they are a high resolution so they will print in high quality
Simplicity is best when it comes to text backgrounds
Co-ordinate all stationery and last touches for a sophisticated look
wedding invitation wording
Get the wording right and guests will have no cause for confusion but use too much implicit language or complicated instructions, and you will double the number of queries you have to answer. For template text and tips, click here.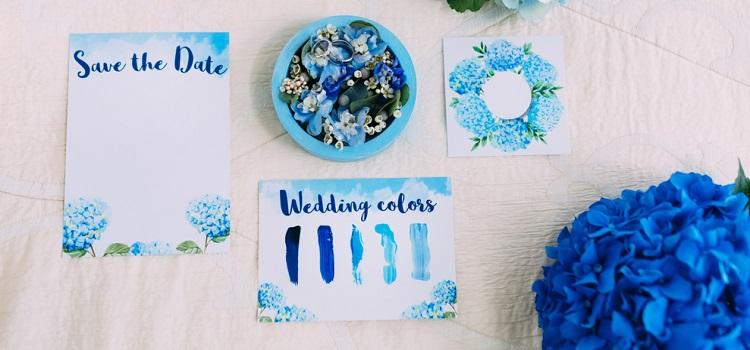 Sending invites and creating address labels
All of the online designing websites will either include or offer envelopes. It is recommended to buy these as they will perfectly fit your invitations inside.

Once you have your invitations and envelopes, it is time to post these of to your friends. To save time and energy handwriting each address, it is recommended to make up labels.