How to stay comfortable on your wedding day
Many brides focus on making sure they look gorgeous and often negate comfort when this is key to looking relaxed and happy. Below are six top tips to ensure you stay comfortable on your wedding day.
Related articles: wedding dress styles comfortable underskirts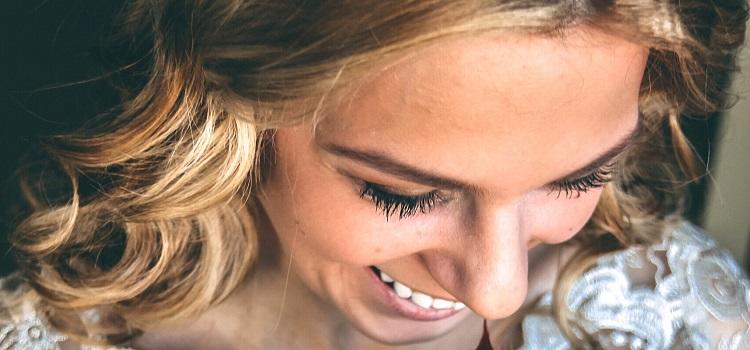 Bridal comfort tips: Choose a long-lasting hairstyle
Many brides focus on a hairstyle that will stun as they walk the aisle, but forget that their hairstyle needs to look good all-day for pictures. Sadly, many brides end up feeling frustrated or unhappy as their curls drop or style becomes undone over the day.
Avoid hair stress by:
Ask your hairdresser for styles that will suit the thickness, length of your hair and your personality.
Trial out the look in advance and keep it in all-day
Follow guidance from your hairdresser about preparing your hair
Embrace your hair type and enhance it
Related article: wedding hairstylists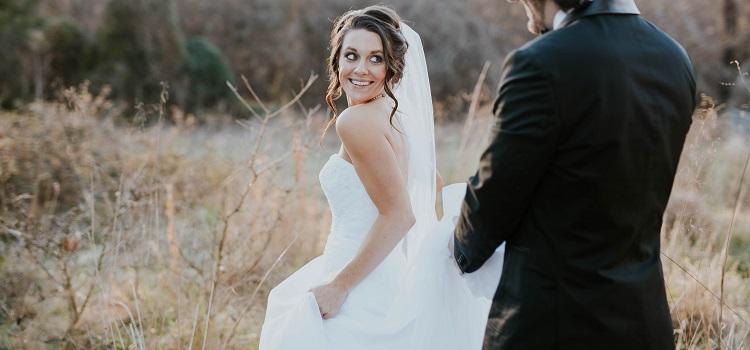 Bridal comfort tips: Wear natural mineral bridal makeup
Too often brides opt for the 'more is best' approach to wedding day makeup. Heavy makeup looks great in pictures but can look too drastic, unnatural and leave a caked, dried-out look by evening.
Avoid the overdone look by:
Buying products that work with your skin type and complement your complexion
Choose fade resistance and waterproof versions that guarantee staying power
Trial products in advance and keep them on all day to see how they last.
Related articles: wedding makeup looks makeup artists
Bridal comfort tips: Wear comfortable-sized heels
Many brides focus on achieving their perfect height rather than fitting their wedding dress to a heel they can comfortably wear all day. This can lead to rubbing, wear down your energy for dancing and mean your dress drags when high-heels are taken off.
Avoid sore feet by:
Keeping to your typical height heel in a bridal style will ensure you can keep moving and dancing late into the night.
Invest in 'wide-fit' shoes and breathable materials so you can stay cool all-day
Related article: comfortable wedding shoes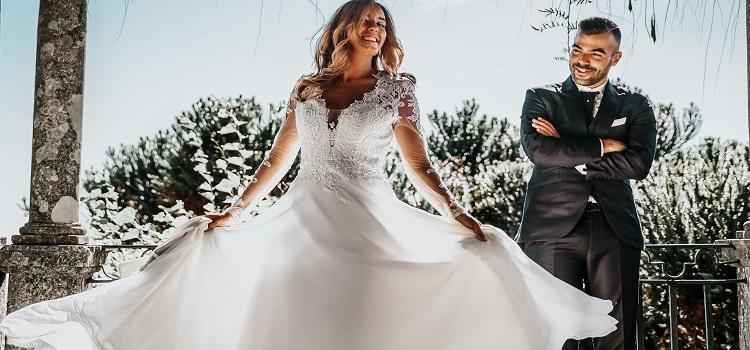 Bridal comfort tips: Ask for a bustle on your wedding dress skirt
A wedding dress train will look stunning as you walk down the aisle, but this additional material can cause many brides to slip or trip when later walking or dancing.
Avoid this embarrassment by:
Asking your dressmaker to add a bustle to clip up your train after the ceremony.
A skilled dressmaker will be able to disguise this, so your dress looks just as pretty when pinned up.
At the dress fitting, make sure to trial fastening/unfastening the bustle to make sure that you or a helpful bridesmaid can do this easily on the day.
Related articles: wedding dress shopping choosing a wedding dress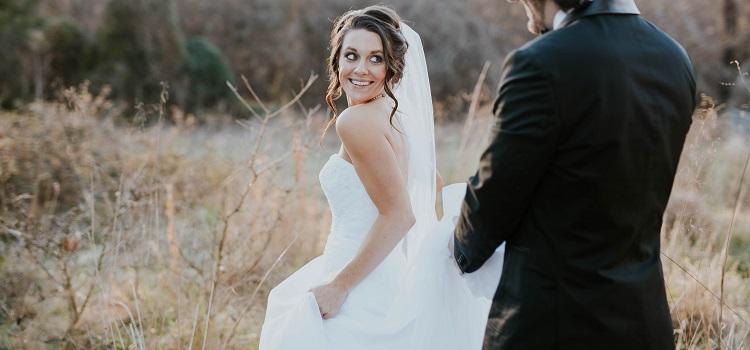 Bridal comfort tips: Pick a lace-up wedding dress corset
Restrictive corsets are excellent at hiding the small lumps and bumps of being a real woman, but these can become too tight and impractical when worn all day.
Avoid feeling stuck in your dress by:
Opting for a lace-up dress where the tightness can be varied throughout the day or a bodice that has extra fastenings that can be loosened if needed.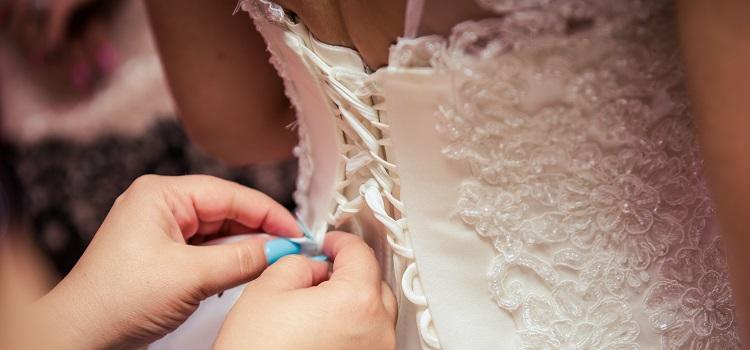 Bridal comfort tips: Pack an 'in case of emergency' kit
Plan in advance to make sure that small issues don't blight your day by preparing a clutch or small handbag with the following items:
Vaseline to prevent chaffing and for beauty emergencies
Safety pins for minor tears and securing your dress/bra if needed
Hair grips for recovering any straggly hair
Fabric plasters for any blisters or rubbing