wedding cake style, flavour and filling
Choosing, tasting and creating your wedding cake is nothing short of utterly delicious. There are a vast amount of options for all budgets and tastes, so it is worth savouring this wedding task. Make sure to have your cake and eat lots of it too. The below article gives a straightforward guide to cake costs, flavours and styles.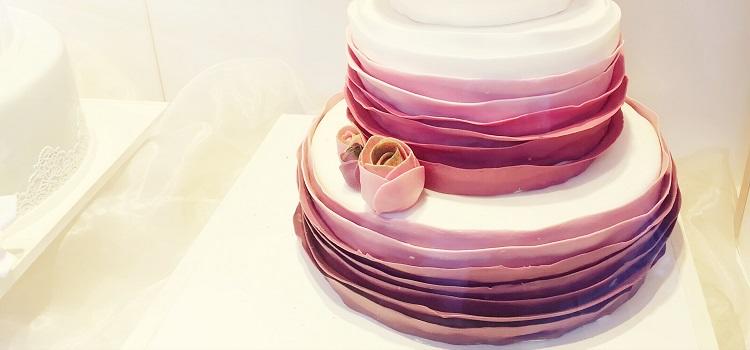 wedding cake: How far in advance plan
It is recommended to start planning your wedding cake for five months in advance of your wedding if you decide to opt for a specialist cake designer. Otherwise, a month before the date for planning the logistics is plenty of time.
wedding cake costs
If you have a creative family member or close friend, a cake can be a perfect wedding gift. Cost = £0
For those on a tight budget, virtually all supermarkets offer readymade cakes. Cost range from £10-£50
Selecting a specialist wedding cake designer will cost from £150-£300 for a 2-3 tier cake
Higher-end supermarkets office bespoke services too.
However, in my opinion, if you have a budget higher than £150 do opt for a specialist cake maker who can make a cake to your exact taste and style requirements.
Related articles: wedding cake makers - wedding catering options - hiring a caterer
wedding cake: Cost cutting
While the 'cutting of your wedding cake' on your wedding day is a rite of passage, the type, budget etc. are not. As such, your budget should be reflective of how essential this element is to you both.

Once you've selected the best budget for you, it's time to get a little creative. Do keep in mind that your ideas will need to be adapted to the skill level of your wedding cake designer.
Friends/family should only be an option if you know there is no chance of conflict and are willing to accept errors. Placing pressure on a gift is a trait to be avoided at all costs.
wedding cake flavours and fillings
There are endless cake flavours and combinations out there. However, as a wedding cake will be shared amongst a broad group of your nearest and dearest, it is not the time to try out something wacky unless you are prepared for lots of leftovers.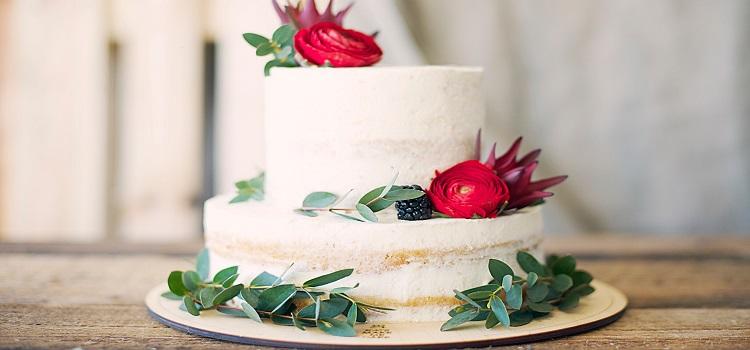 Tasty wedding cake flavours
Lemon drizzle with Lemon curd/ganache
Chocolate fudge with salted caramel/chocolate ganache
Red Velvet with cream cheese
Vanilla with strawberry/raspberry jam and cream
While there are hundreds of sponge combinations, a classic choice can make life a lot easier unless you are choosing a specialist cakemaker and can sample some different combinations first.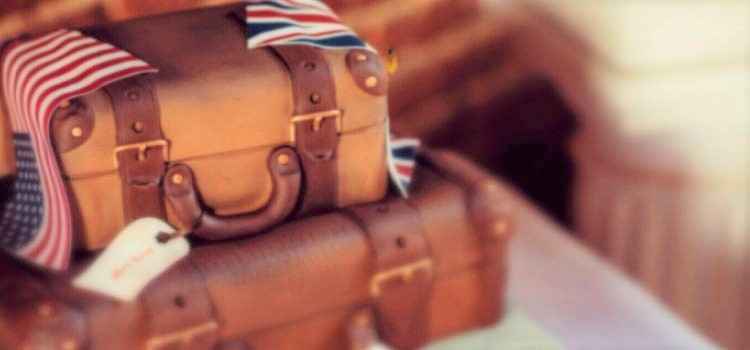 Choosing a wedding cake style
When choosing a style, a quirky and fun idea to consider is something that represents you as a couple, your hobbies, special places or use colours/designs that inspire you. Below are some options to consider:
Deciding how many wedding cake tiers to have
When deciding whether to have a single tier or multi-tier cake it is worth noting that prices are very similar, and most cake designers will charge per portion not by layers.

If you are making a cake yourself, tiers enable different flavours combinations and also keep to the tradition that the bottom layers are for the day and the top is kept until the first baby.

Also, as wedding cakes often now tend to be much admired and pictured by guests, a tiered cake can have more of a presence.
Theme wedding cakes
Beyond the plethora of beautifully designed wedding cakes, some couples opt for designs that signify their characteristics. Some choose cakes to be styled into places or items vital to them; others will like to embellish them with decoration.
Popular theme wedding cakes
Lego cakes
Mini model venue creation
Tree stump cake with flowers
Ski course cake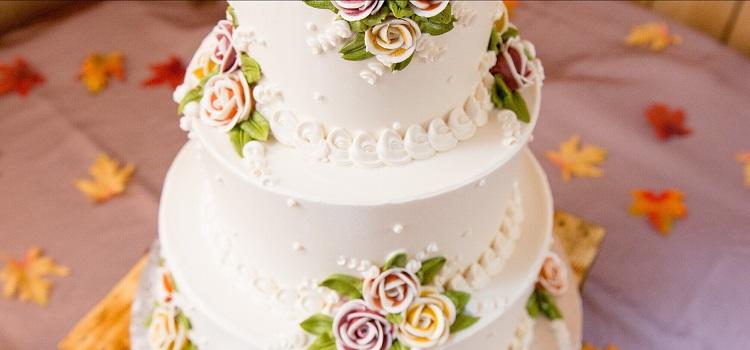 Where to get online wedding cake inspiration

A great place to start in your style search is by looking at some of the country's top wedding cake designers and their styles. To save you the work, below are five of UK wedding cake finalists from 2017:
http://www.fanciebuns.co.uk
http://www.hayleyelizabethcakedesign.com
http://www.theconfetticakery.co.uk
http://www.theweddingandeventslounge.co.uk
http://www.littlebuttonbakery.co.uk
Another fabulous wedding must-have tool; 'Pinterest', is also a great place to get other ideas. From these, you can then craft your personalised touches and scale down the intricacies, dependent on who is making your wedding cake.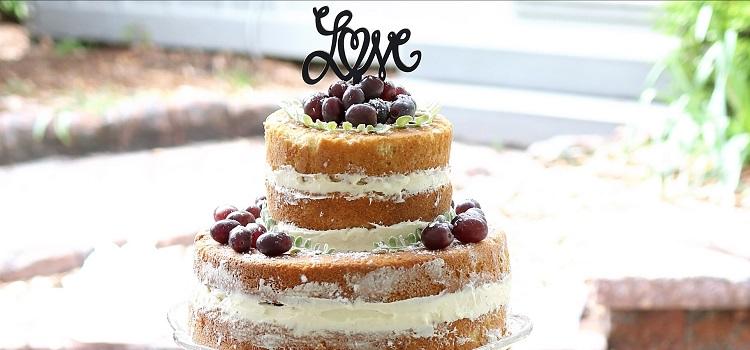 Top 2019 wedding cake trends
As with everything else in wedding land, cakes do follow trends and for those wanting to hit the 2019 trends below are the top choices to consider:
1. Naked wedding cakes
These work nicely for rustic weddings or couples who are not big icing fans. If picking this design, it is essential to make sure the filling looks very even, and it is made by someone with a good eye for detail.
2. Dripping wedding cakes
Icing running down the side of a cake can look very artistic if bold and contrasting colours are used, and this trend can be incorporated with 1) and 3) - why follow one trend when you can have a few.
3. Marble glazed wedding cakes
Often seen on kitchen worktops can morph a traditional cake into something very refined and elegant. If going for this style do be careful about adding too much detail and keep cake toppers simplistic.
4. Mirror glaze cakes
This clean, neat style of cake will work best with a chocolate brown colour of something else very bold, so the tone is reflected. Separately coloured tiers could also incorporate the wedding theme colours for those looking for extra finesse.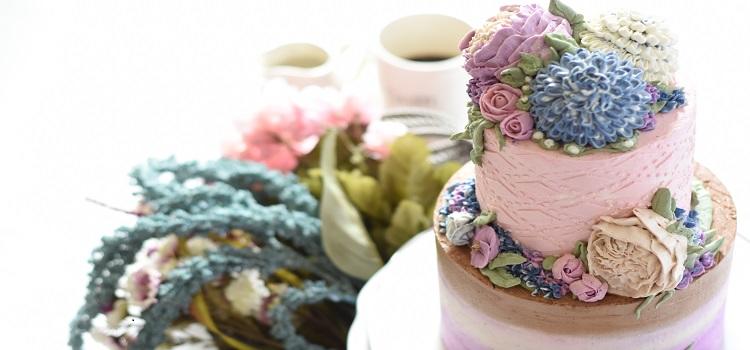 Alternatives to traditional wedding cakes
For brides with less of a sweet tooth, there are lots of alternative options so you can still enjoy the 'cutting of the cake' wedding tradition. Below are some of the most popular alternatives to wedding cakes:
1. Cheese stacks
2. wedding Croquembouche
3. Cheesecakes
4. Cupcakes


Related articles: wedding cake designs and flavours - wedding catering options - hiring a caterer