Choosing beautiful bridal flowers
Choosing your bridal bouquet and flowers is an immensely fun and creative process. If you can, take the time to relax and get inspired by floral ideas before heading straight to a professional florist.
Scroll down for advice on who needs wedding flowers, best flower combinations, classic and rustic bridal bouquets ideas and lots more.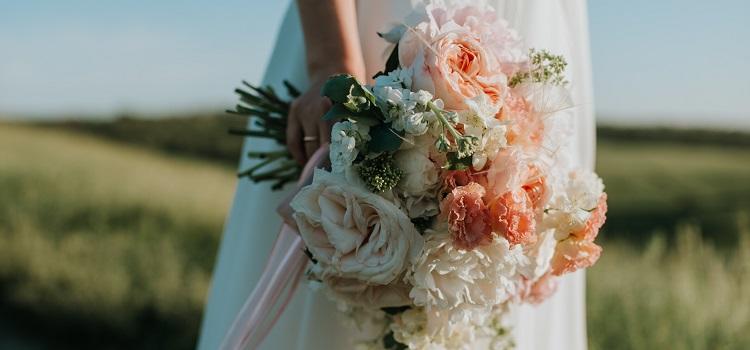 How to have the perfect bridal bouquet
Bridal bouquets should ideally have shades that are complementary to the bridesmaid dresses/colour theme.
Make sure the dimensions of your bouquet (drop/width) flatter your size, height and dress type.
Balance wedding colours with classic whites to make the colours stand-out.
Add green foliage around the perimeter of your bouquet, so it is set away from your dress.
Make sure to pick flowers that are naturally that colour rather than dyed ones to avoid stains on your dress.
Opt for stems that are wired if you have a large bouquet to lessen the weight.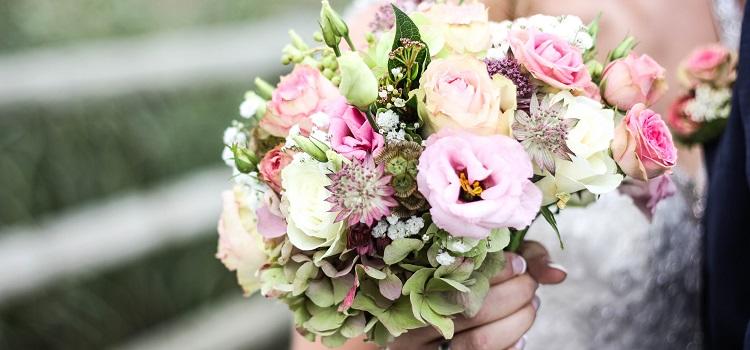 Picking flowers to match your wedding colours
There are hundreds of wedding flower options to pick from in every shade imaginable. Below is a list of the most popular and highly pigmented flowers to make sure your bridal bouquet is stunning:
White flowers: Ivory Rose, Lisianthus, Gypsophila (baby breath)
Blue flowers: Cornflowers, Hydrangea, Delphinium, Blue Iris
Purple flowers: Lilac Freesia, Purple Anemone, Lavender role, Lilac Monte Casino
Pink flowers: Cymbidium orchids, Lavender Alstroemeria, Ranunculus, Pink Carnations,
Yellow flowers: Sunflower, Yellow mini calla lily
Red flowers: Rose, Red Carnation, Red Peruvian Lily,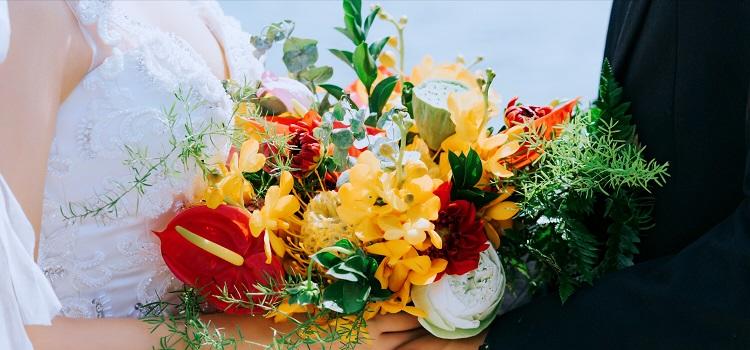 Bridal bouquets to match your wedding dress
Best bouquets for sheath dresses should be a delicate, slim posey or a single large flower.
Best bouquets for ball gown dresses can take most bouquet styles but ideally they should be full and round or heart shaped.
Best bouquets for mermaid dresses are delicate, waterfall style bouquet where your figure can easily be seen and the flowers trail to the kick of the skirt.
It is also important to contrast the amount of detail in your bouquet with your dress. Plain dresses can take a more complex bouquet, whereas, highly embellished, laced bodices need a simple, elegant posey.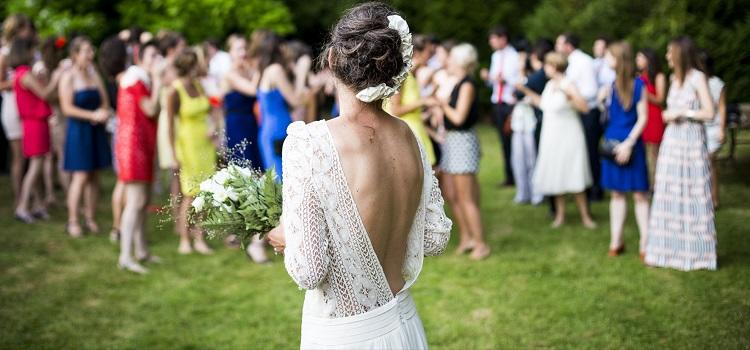 Classic bridal bouquet ideas
Below are floral combinations that will guarantee you have a bouquet that will have the wow factor:
Striking royal blue bouquet: Blue Rose, white Lisianthus, Gypsophila (Babies breath) and soft Ruscus foliage
Stunning red and white bouquet: Ivory Rose, Orange blossom flowers, Red Carnations and Ivy foliage
Soft purple and lavender bouquet: Lavender Rose, Purple Anemone, Lilac Freesia and Lilac Monte Casino
Romantic all red bridal bouquet: Red Rose, Red Carnations and mini Carnations, (with or without Gypsophila 'babies breath')
Summer yellow and cream bridal bouquet: Ivory and yellow Roses, yellow Mini Calla Lilies and soft Ruscus foliage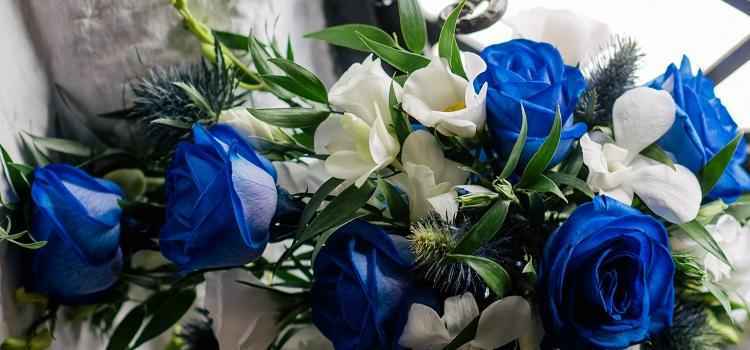 How to create rustic and bohemian bridal bouquets
To give your bouquet a contemporary look, it is recommended to limit the number of signature flowers to one or two different varieties. These should then be interspersed with foliage and/or berries. This will give the bouquet a much more relaxed and natural look.
Rustic bridal bouquet foliage ideas
For icy green foliage it is recommended to opt for Astrantia, Snowberries, Bruina and Dusty Miller leaves.
For a fresh, vibrant green foliage, it is recommended to pick forest fern, soft Ruscus, Beargrass or seed Eucalyptus.
Bohemian bridal flower ideas
Flowers that best embody the bohemian bridal look include; Blue Eryngium, fresh lavender, cascade roses and white/Lavender colour Veronica. Sunflowers, daisies and forget-me-nots can also add a real country rustic charm for the offbeat bride.
Related article: picking a wedding florist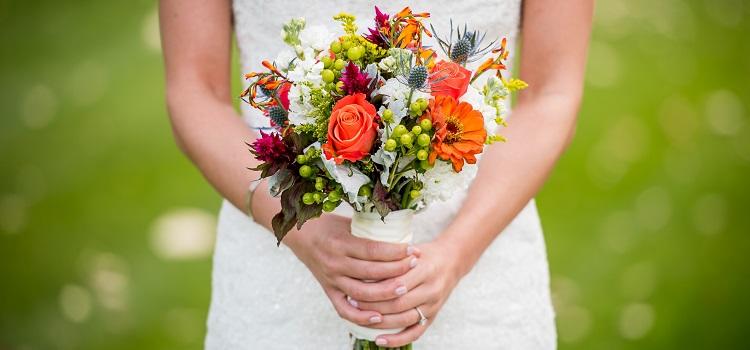 Where to get wedding flower inspiration
Some of the best places to find inspiration will be from wandering around florist shops and seeing what colours and petals you like best. Ask for names of flowers and colours they come in naturally. Once you are home, you can then start a Pinterest board and look for large flower retailers to get bouquet inspiration. Make sure to keep the visuals that you like to show the wedding florist you later select. Great websites to use for inspiration are Interflora and 1800 Flowers.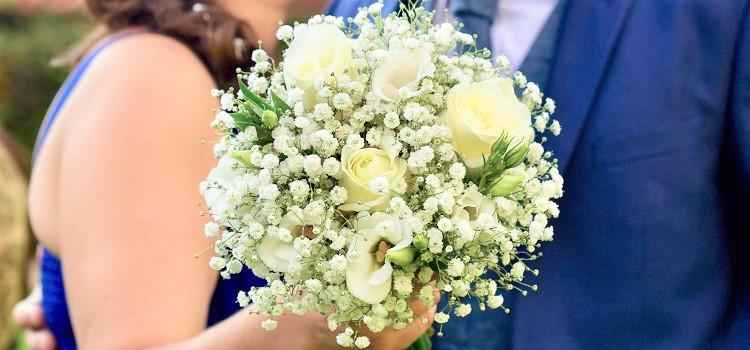 Wedding flowers: Who needs a bouquet
Traditionally the bride, her maid of honour and bridesmaids will all have bouquets. The bride's flowers are the most important and the bridesmaids' bouquets are often a smaller version in a posey or even a single rose. While bouquets are not necessary for the bridesmaids, they are a nice touch to help the girls feel less awkward when walking down the aisle and are an additional thoughtful gift.
Wedding flowers: Who needs a flower buttonhole
Traditionally only the bridegroom and best-man need to have a buttonhole, but often all of the ushers (groomsmen) will have these too. Buttonholes are not a strict part of wedding etiquette and can be negated if your husband-to-be does not want one.
Related article: picking a wedding florist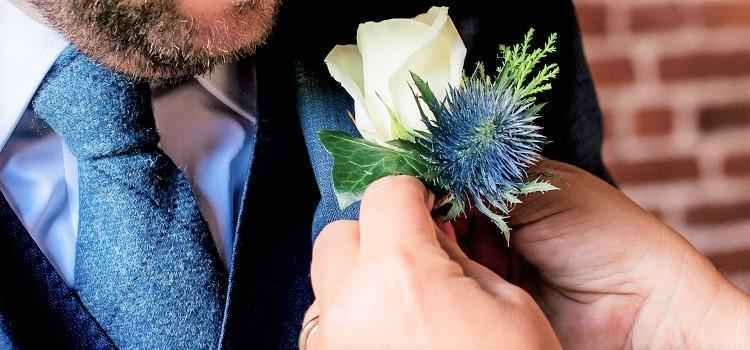 How to make bridesmaid bouquets complement the bridal bouquet
When picking your bridesmaid flowers, it is highly recommended to pick out one signature flower from your bouquet and combine this in a simple posey with Gypsophila (babies breath). Alternatively, for a cheaper, elegant option, your bridesmaids can carry a single stem of your signature flower: Good flowers to use for this purpose are roses and sunflowers.
How to make buttonholes complement the bridal bouquet
When designing the buttonhole, it is crucial to go for a 'less is more' approach: Choose one signature flower from your bouquet and either one other small flower or a leaf to contrast it with. This should be twined in a neutral colour and be small enough that it subtly enhances your groom's look in a masculine way.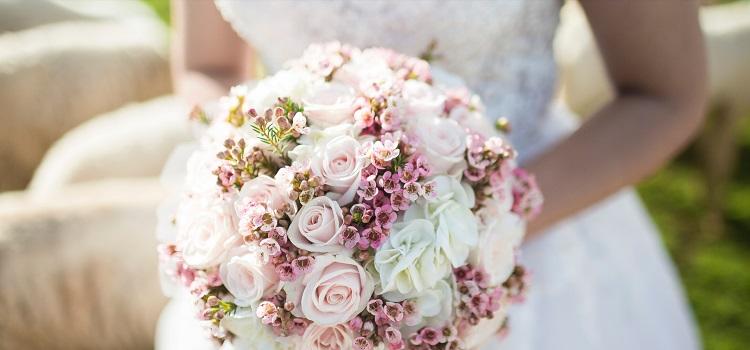 Alternative bridal bouquet ideas
For brides who are either allergic to flowers or want something a bit different, below are some alternative ideas to consider:
Full foliage bouquet
Autumnal leaf bouquet
Artificial flower bouquet
Berry and foliage bouquet
Related articles: buying wedding confetti creating centrepieces