Guide to wedding table decorations
Adding personalised decorations to your wedding reception is a great way to refine your theme and add extra elegance to your day. Scroll down for a complete guide to place cards, table numbers and centrepieces to suit any wedding theme and budget.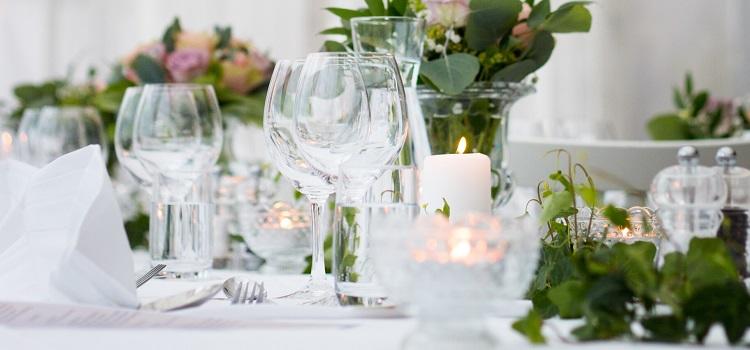 The importance of wedding place cards
If you want a minimalist table layout, place cards and table numbers are the only additional decorative items that are needed: Place cards enable you to create a layout that will ensure your guests have a great time: These will ensure that your guests know where to sit and negate any issue of couples or friends being separated for longer durations.
Where to buy wedding place cards
Packs of plain cardboard place cards can be purchased in most card shops and guest names can be added by hand or printing onto sticky labels. For more decorative creations it is worth looking specifically in craft shops, such as Hobby Craft, or visiting online craft marketplaces, such as Etsy or Not on the High Street.
Related articles: wedding favours creating a seating plan cake toppers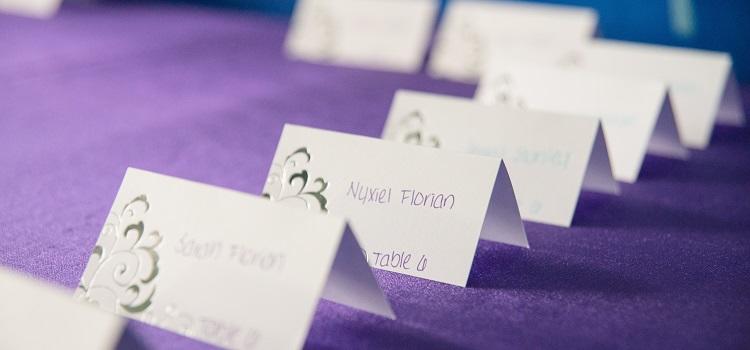 How to make traditional wedding place cards
Cardboard wedding place cards are super easy to make and are a great idea if you would like something a little more unique than options available online. For a step by step guide to cardboard wedding place cards click here.
Alternatives to wedding place cards
Unique items that incorporate your theme or personalities are a great option for those that want a truly unique keepsake for their wedding guests and these are easy to make yourself with a little effort. Great options include painting names on beach pebbles or handwritten tags on sprigs of handpicked flowers. If opting for a rustic idea do not get overly pre-occupied with uniformity as variances will add to the look.
Related article: Wedding favours your guests will love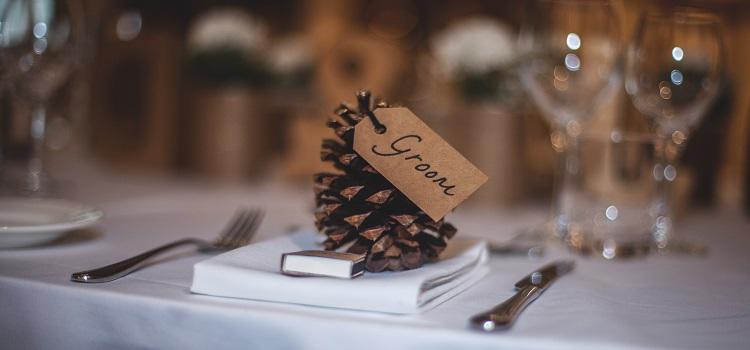 The importance of wedding table numbers
Unless you are set on being extra creative, there is no need to stray from the traditional table numbering system: This will ensure caterers give the right meals to the right people. Table numbers are also particularly useful for speeding the process of setting up, distributing place cards, and arranging wedding favours.
Popular table number ideas
Numbered cards placed within a photoframe
Freestanding wooden or craft numbers
Special places, nicknames or country cards
Where to buy wedding table numbers
Generic cardboard table numbers are available in most card retailers or craft shops.
Freestanding wooden numbers can be found in most craft shops or larger online market places, such as Amazon.
Bespoke table number cards can be created at online stationers or designed at home and printed at any photograph store.
Top tip: If you are buying online, make sure to check the dimensions of the table number so it is visble for guests and waiters to see, but does not over power your table decorations.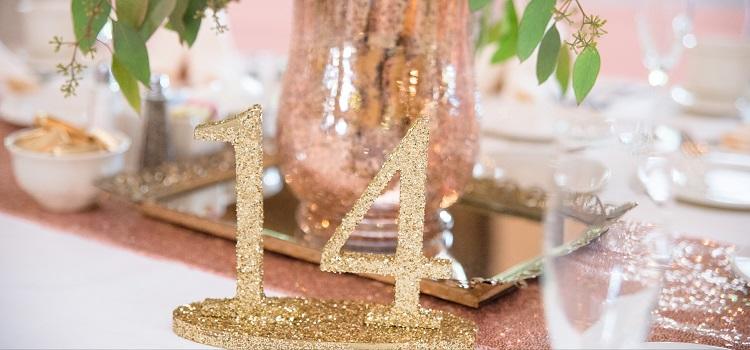 The importance of wedding table centrepieces
Centrepieces often give wedding tables an additional decorative touch and allow your overall wedding breakfast room to look that bit more special.
Popular wedding centrepiece ideas
There are many variants in centrepieces to suit all budgets, but the staple of most designs are centred around the below three concepts:
Candelabras or lanterns
Flowers or green foliage
Decorative glassware with candles or lights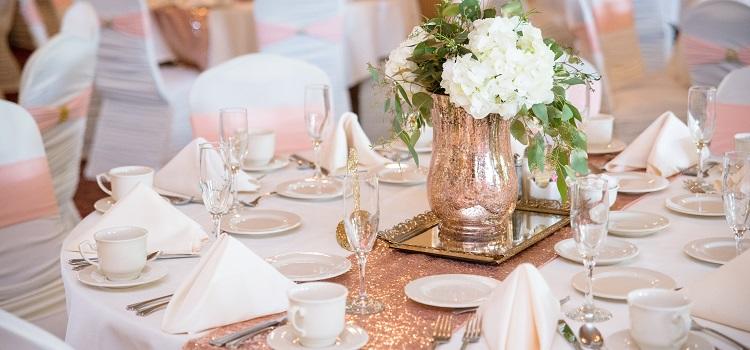 Where to rent wedding centrepieces from
Your wedding venue: Most wedding venues will have centrepieces that can be hired at an additional cost. While these items often come at a premium, this extra spend can be offset by the ease this service provides.
Wedding decoration specialists: There is a wide range of wedding decoration companies that enable you to hire items. These can be cheaper than venue items and will be more exacting to your wedding theme and colours. However, it is vital to make sure that suppliers include delivery, vene set up, and collection, so you are not liable for damages in transit or set up.
If opting for an independent wedding decoration specialists, it is worth seeing what other services they provide to make savings: These might include:
Ceremony chair covers and sashes
Ceremony aisle and room decorations
Signage
Light up letters
Wedding breakfast chair covers and sashes
Table numbers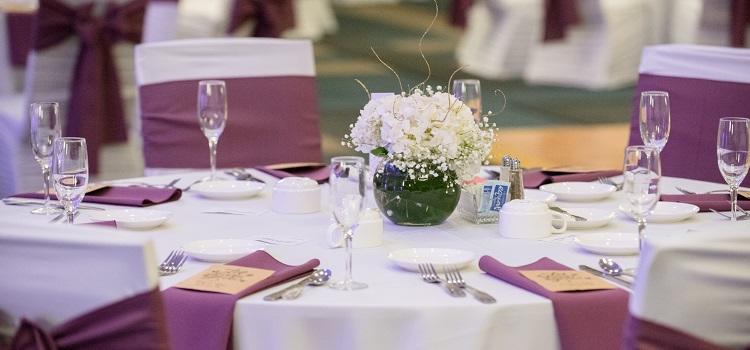 Where to buy ready-made wedding centrepieces
Many department stores and larger home stores will have centrepieces that can be purchased and delivered. This will negate the need for creativity. If considering this option, it is worth deciding in advance how the items could be used, given to guests or sold after your day. Make sure to weigh up the cost-saving vs. set up and resale. This can often end up being an expensive and resource-intensive option.
How to make wedding centrepieces
DIY centrepieces can be a great way to keep costs down and create something truly bespoke. Unless you are particularly creative it is best to stick to a simple design (scroll down for ideals) that can be easily replicated for each table.
Top tip: If opting to make your own centrepiece, it is wise to create this in advance and take pictures to guide whoever is setting up on the day so they are exactly as you envisage them to be.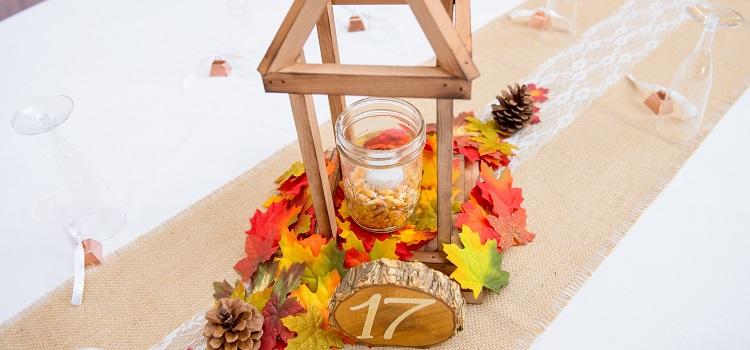 Three easy to create wedding centrepiece ideas
A trio of candles with foliage surrounding
Items you will need:
White candles of differing sizes (buy one and check the burning time before buying all)
Collected autumnal leaves, rose petals or ivy stems
Fire retardant base plate for candles
Matches (if your venue will let you light candles)
Setup process: Create the look you want before the day. Take pictures so your helpers can see your vision. Before the day it is worth assigning each of the different stages to a different helper. This will ensure a more consistent look. On the day also appoint a member of the bridal party to go and light candles before guests enter the wedding breakfast hall.
A lantern resting a wooden stump
A metal lantern for each table
Candles or LED lights (buy one and check the burning time before buying all)
Small wooden stump, slate or stand
Optional pebbles (if going for a beach look)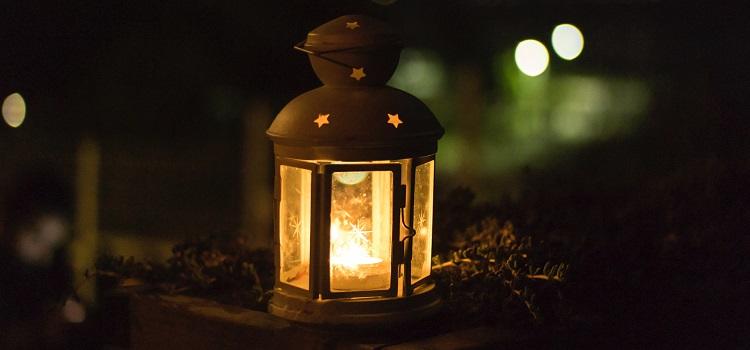 Set up process: Make sure to test candles or LED lights before using and take extras. Create your design a few days before and take pictures to distribute to set up helpers. Morning set up of this style will be very efficient as not much styling will be required.
Glass cylinders filled with a) flowers b) candles c) fairy lights
Selection of glass tumblers
Floating tea lights
Battery operated mini fairy lights
Set up process: Test lights work or the burning time of candles before the day. Make sure the glass tumblers are well wrapped on transit to the venue. Set up on the morning of this design will take minutes and a photo is only needed if you want an specific look.