How to choose bridal jewellery
Most of us love staring at sparkles, precious gems and beautiful items of jewellery and what better opportunity to get accessorising than for your bridal look.
The below article covers everything you need to know about bridal jewellery before you hit the shops.
Related articles: wedding rings bridal shoes wedding veils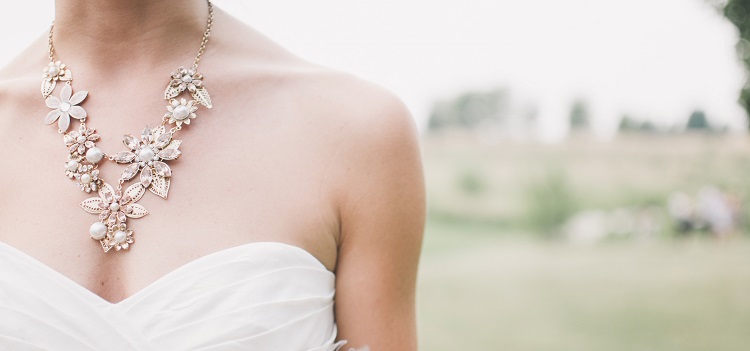 What jewellery should brides wear?
For brides who prefer a natural look, it is recommended to choose one additional piece to complement your look such as a delicate bracelet, pendant necklace, or pair of stud earrings. Try to opt for a minimal piece that will reflect the white of your dress and will not need frequent adjusting.
For brides who enjoy accessorising, it is recommended to pair two pieces of jewellery that complement each other. Where possible, avoid obviously matching sets and items that overpower your hair, veil and the detailing of your dress. If you normally wear jewellery, heavier items such as hanging earrings and a more elaborate necklace can add a focal point.
Popular bridal jewellery combinations:
Hairpiece, necklace and bracelet
Bracelet and earrings
Hairpiece and earrings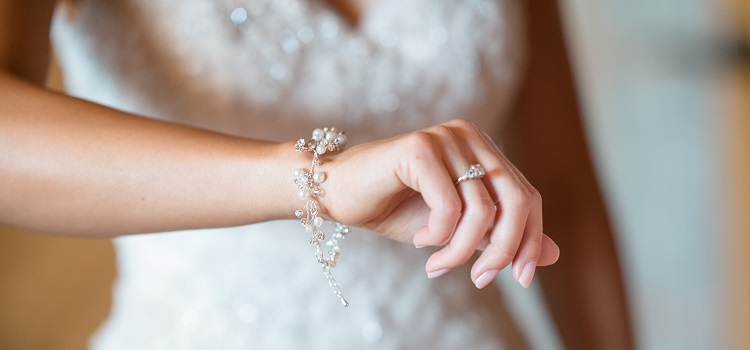 How do I pick the right jewellery for my wedding dress
Bridal jewellery for a sweetheart neckline: A sweetheart or curve neckline shows off your décolletage and, as such, a pair of waterfall earrings will enhance your neckline even more. Alternatively, a simple pendant necklace that matches the dip of the sweetheart can be very flattering.
Bridal jewellery for v-neck wedding dresses: For brides who are confident to wear a v-neckline dress, it is recommended to either enhance this with a pearl drop pendant or opt for a simple piece that draws attention to another aspect of your bridal look.
Bridal jewellery for an illusion neckline wedding dress: If opting for an illusion neckline, it is recommended to avoid wearing a necklace, which could detract from the detail. Instead, it is wise to opt for a statement hairpiece, a jewelled belt or bracelet.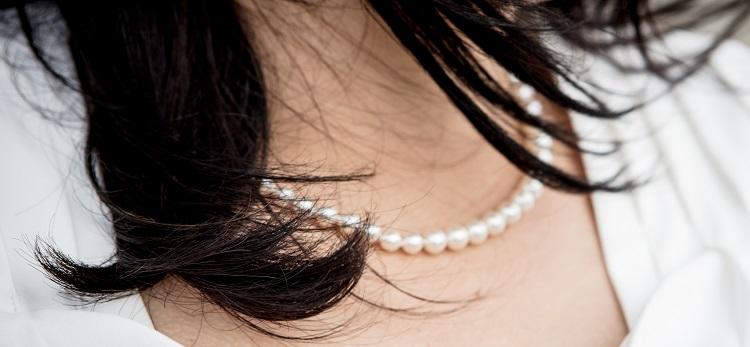 What jewellery to wear with a white wedding dress
Colourful statement jewellery should be avoided. Instead opt for complexion flattering precious metals (white gold, platinum), pearls, crystals and diamonds, which will reflect and flatter the tone of your dress. If your wedding colours or engagement ring is a different colour, a simple stone in this colour in the neck can draw your look together.
Also, try to choose jewels and a design that will match the fabric and style of your wedding dress. As a general rule, classic pearls will enhance intricate lacing and sparkle is best matched with silky fabrics such as organza, chiffon and charmeuse.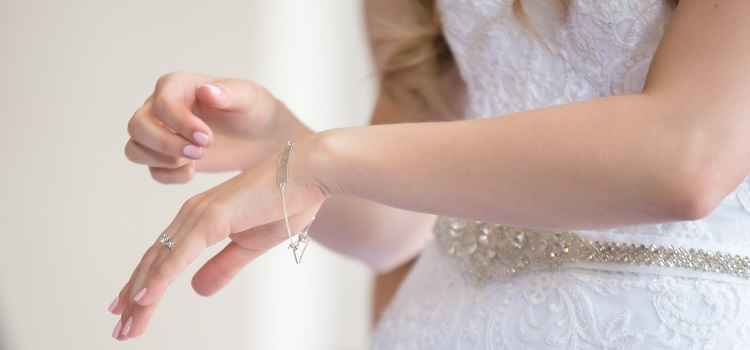 Tips for picking out bridal jewellery
When shopping for bridal jewellery, try to resist getting swept away by the sparkle and, instead, opt for styles that will complete your look. It is wise to have pictures of your dress with you, a sample of the fabric and to wear your hair in a similar style to your wedding day. When looking at necklaces, hairpieces and bracelets, be bold and ask to try these on.
Where to buy bridal jewellery
UK: It is recommended to start by looking in John Lewis, House of Fraser or Debenhams for a broad range of brands. These can then be searched and compared online once you know the style and sizes that you are looking for.
USA: It is recommended to start in the larger brand stores such as Macy's, Neiman Marcus, Norstrom and JC Penny's. These will give you an idea of the fashionable looks, styles and stones you prefer before looking online.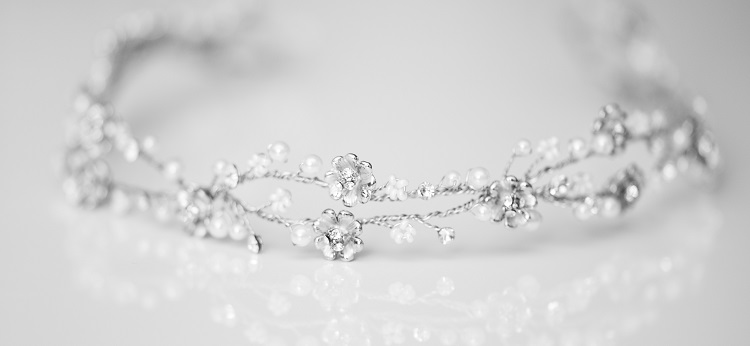 Where to buy bridal jewellery pieces online
If you are looking for a unique piece, it is best to try top craft marketplaces such as Etsy or Not on the High Street. If looking for designer deals, it is work trying TK Maxx (TJ Maxx in America.)
Tips for buying bridal jewellery online
Choosing intricate items of jewellery online can be risky unless you know the exact size and style you want. Items in pictures can also vary, and the models wearing them can be a different height. Therefore, before diving into buying a bespoke creation online make sure to:
Work out the dimensions/drop/length of the items you would want
Decide on a specific metal for your skin tone
Do your research on the seller to make sure delivery is secure, there is a straightforward returns process, and there are no hidden costs.
It is also worthwhile asking about timescales for delivery and reviews/pictures from previous brides.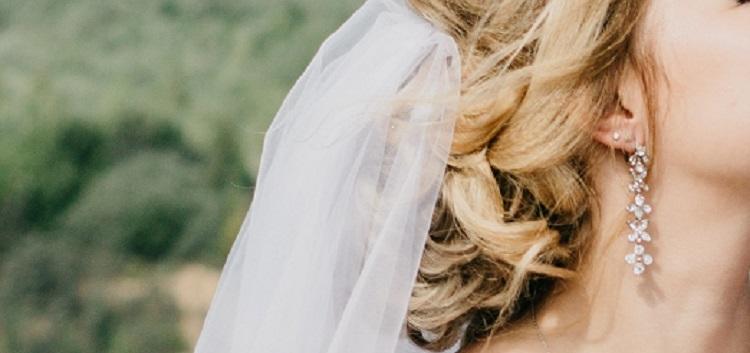 Cheap bridal jewellery ideas
If your wedding day jewellery budget is small, it is wise to focus on either one piece of costume jewellery. Alternatively, add to the tradition of your day and see if a family member or close friend has an item which would enhance your look.
Alternatives to bridal jewellery
If you would prefer to accessorise your look differently, then these ideas could be right for you:
Flower corsages and hairpieces
Picking an intricate veil with beading or sparkle
Choose statement shoes and nail varnish to match
Opt for a belt to give more interest/detailing to a simple dress
What to do if you have been gifted bridal jewellery you do not like
If you have been gifted items to wear on your day but do not want to wear them, it is recommended to stick to your choice; it is your special day. However, the items picked can be worn the day before or after so the giver sees you wearing them.