guide to best-man and groomsmen wedding suits
When picking well-fitting groomsmen wedding suits or tuxedos most grooms opt for the ease of a high-street suit company. However, by spending equal time on bridesmaids and ushers (groomsmen), you will also ensure your best mates get that rare chance to feel handsome and sharp.
Below is a guide to everything you need to know about wedding suits, costs and where to shop.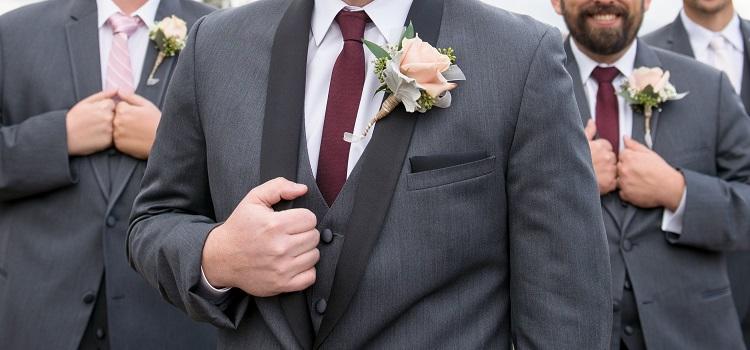 choosing bridesmaids - bridesmaids dresses
- mother of the bride dresses - bridal party gifts
Buying or renting groomsmen and usher suits
Renting is the obvious and best option for groomsmen and usher suits as the price tag of well-tailored suits can run into hundreds if not. Renting also allows for minor alterations, clean/press and takes a lot of the hassle out of buying for one day only. Many suit-hiring companies also include waistcoats, shirts, shoes and all accessories too if you are looking for a coordinated look.
Rental costs of wedding suits and tuxedos
As a standard, the cost of hire will also include a refundable deposit when the suit is returned in usable condition (this negates minor stains). Expect to pay approximately between £100 - £150 per suit including deposit and in the US $150 – 200 again including deposit.
When calling around it is worth seeing if discounts or additional suits come for free if a certain number are hired.
Who pays for wedding suits?
In England, it is expected that the bridegroom pays for the best man and usher suits as this is an honour and a gift. However, in American, it is the groomsmen who are expected to pay rental costs unless the price-tag is exceptionally high. Whatever your choice make sure that money does not get in the way of your best mates sharing this critical part of your day.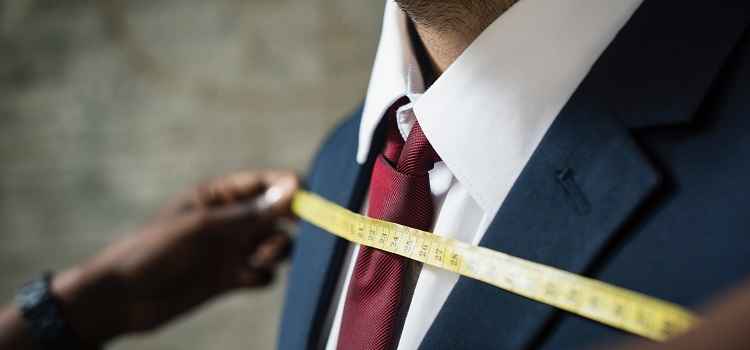 Where to rent suites from (UK)
Alongside the well-known suit retailers, there is an increasing number of smaller independent tailors who provide this specialist rental. Before opting for high-street names, it is worth googling rental shops near where you live/venue location and contacting these. It is also worth asking your venue for any recommendations.
High-street retailers include Moss Bros, Burton, larger Debenhams, slaters.
Where to rent suits (US)
In the US it is also worth searching around for local tailors who will give more of a European and crisp suit size than many standard shops. However, If you would prefer to go to a brand with more outlets and ease the effort of fittings for your groomsmen, it is worth visiting; Men's Warehouse or looking online at Menguin.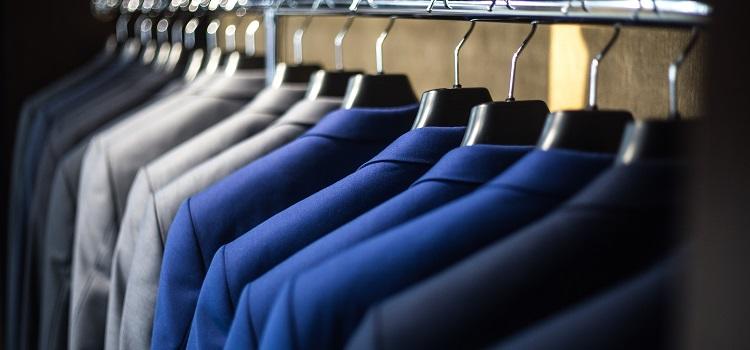 Suit colours
While the look of the suit and style can only have small differences, the colour of the best man and groomsmen suits should be coordinated or complementary to the grooms.
Most popular, timeless colours are a deep navy blue, soft grey and charcoal grey. Do try to avoid stand out colours for the groomsmen and best-man as you should be the main focus for pictures.
Wedding suit materials
It is worth considering the season you are getting married in when deciding on a suit. Most wedding suits or tuxedos will be a wool mix, which gives crisper, neat lines. Some slightly less expensive suits will combine polyester and wool – these can still look very smart. If you are getting married in a hotter climate or having a destination wedding, it can be wise to look for suits with a higher cotton count to make them more breathable.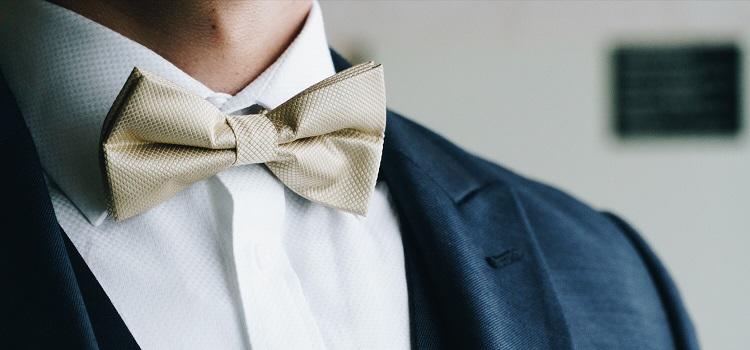 Wedding suit silhouette
Wedding suits and tuxedos vary enormously by country. The European look is more tightly fitted and has shorter sleeves to show the shirt, a tie and thinner lapels. This gives a James bond style look. Traditional British wedding suits, called morning suits, have a longer body with tails and a waistcoat and cravat often accompany this. In the US it is more standard to go for a traditional suit or tuxedo for a very sharp look.
To pick your style, it is worth looking at other weddings and also looking at suit company advertising to see the type of tailoring you prefer. A good tailor will also advise on what will suit your body type best.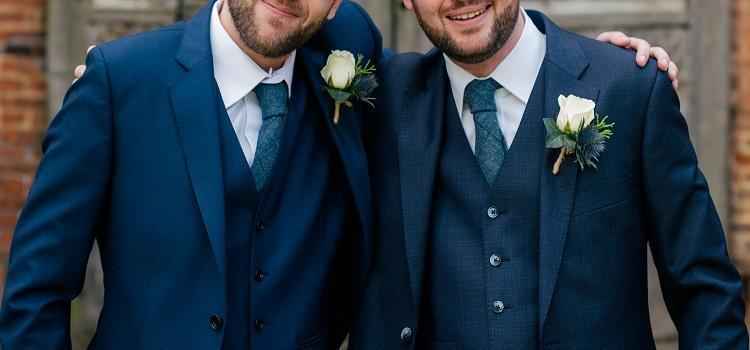 Accessories for groomsmen and ushers.
When hiring suits, it is also worth checking the costs of the following items too; Shirt, Tie, Belt, Shoes, Cuff-links.
If searching for best-man, usher or groomsmen presents it is worth considering novelty socks or cuff-links which will limit hire costs further.
Below are recommendations on what accessories to pick for a classic, crisp look.
Tie
A lot of grooms try to match their best-man/ushers tie colours to the bridesmaid dresses or the colour theme of the wedding. This can often leave them wearing colours that they do not like or do not suit. The most important thing is that their tie compliments yours.
Another nice touch is the make sure your tie is either the same (if suits are different) or complementary (if suits are the same as your best man and groomsmen.
Popular tie colours include; a fabric/wool/ matt style in a dark blue, light blue, dark grey. The tip is to go similar tone to your suit but not the same shade.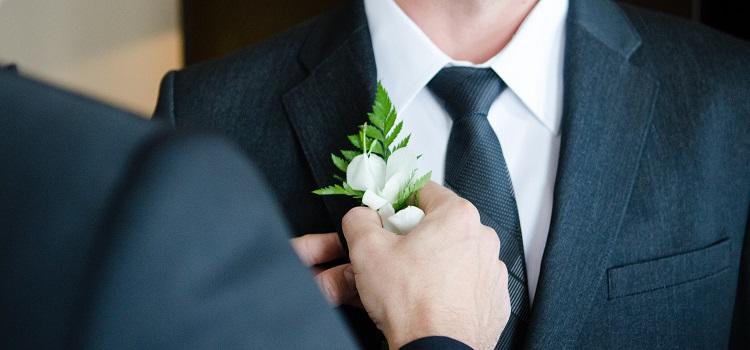 Belts and shoes
The belt and shoes can complete or completely undo a stylish suit/shirt combination. For Best-man, Ushers it is generally okay to ask them to bring/wear their own and to specify a colour. Your bridal party will be in a lot of pictures so drastic differences will show up, but subtle shades don't matter – unless you want perfection.
Belts need to compliment your shoes and should be black, dark brown or tan and a simple design.
Shoes
Shoes need to look new, un-scuffed and should be black, dark brown or tan. The colour of these should be picked to match yours where possible. Brown shoes are an excellent choice for a navy, blue or charcoal suit and black for very dark/black suit shades. For ease, you can't go wrong with a semi-brogue or full brogue. Do avoid patent shoes though as this will look dated.
Cuff-links
This part of the accessories experience definitely shouldn't be a chore, and this is a nice present to give your mates on the day.