personalised wedding cake toppers
A wedding cake topper will be the 'cherry' on top of your tasty cake creation. Below is a complete guide to buying and making personalised wedding cake toppers.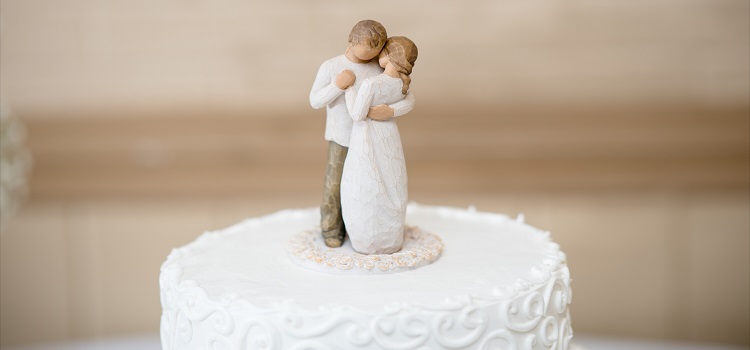 choosing wedding favours - Reception table decorations - confetti
Are wedding cake toppers essential?
Wedding cakes toppers are not vital and are a personal preference. Cake toppers can provide a sentimental keep-sake and add personalisation to a cake, but may not be needed for highly decorative creations; the choice is yours.
How much do wedding cake toppers cost
Cake topper costs range enormously. For those with time to spare, the cheapest option is to make your own out of fondant icing or to select a generalised model style.

Small model figurines will cost approximately £10-20. If opting for a low-cost design, it is recommended to shop on the high-street so you can see the quality of the product.
For those willing to spend a little more, Fimo creations can be made for approximately £20—25 dependent on the number of colours and sculpting tools you buy. For tutorials on making a Fimo wedding cake toppers scroll to the bottom of this article.
At the other end of the spectrum, personalised creations can cost anywhere from £20 -£100 and will depend largely on the material used.

If you are keen to have a keepsake from the wedding, this can be an excellent touch but do make sure to thoroughly research providers and delivery timescales before ordering.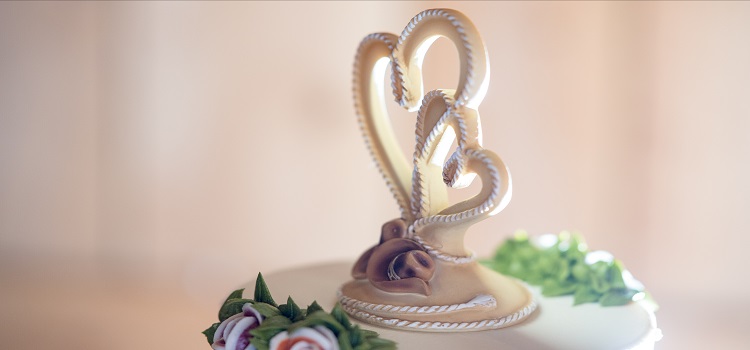 What size should wedding cake toppers be?
The exact size of your cake toppers will depend on the size of your cake. On average they should be no taller than six inches and no wider than four inches so that they are complementary to the design, rather than overpowering.
Where to buy low-cost wedding cake toppers
If opting for a low-cost cake topper, it is best to shop on the high-street to avoid delivery charges. This will also enable you to see the figures before you buy them.

Card shops and discount stores will normally have ready-made options for between £10-20, and it is best to shop at the start of wedding season (March) to get the most extensive selection.

Stores such as Hobby Craft will often have models or wording that can easily be customised and painted.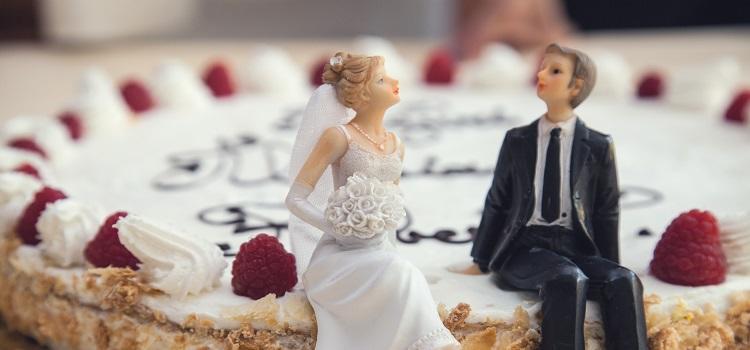 Where to buy low-cost wedding cake toppers online
The best places to search online for wedding cake toppers are Not On The High Street or Etsy as these give buyers access to smaller providers who are often more competitive pricing than the larger wedding suppliers.
When to order a wedding cake topper
It is recommended to order cake toppers two months before the wedding to ease any delivery delays and also enable you to have a small buffer if you are not happy with the finished product.

Personalised cake toppers may take slightly longer, so it is always important to ask how long creation and delivery will take when ordering.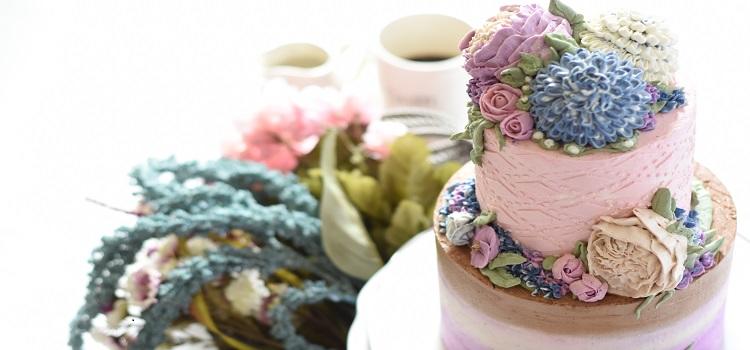 How to ask your wedding cake maker to create your personalised toppers
A lot of cake makers will offer add-ons, such as; cake toppers. It is also worth asking if they have any spare models that you can hire.

Whatever your decision, do not feel obliged to pick their creations. A good cake maker will not mind if you pick their design or opt to buy/make your own.
How to make your own personalised wedding cake toppers
Making your cake topper can be a creative way to add your personal touch to the cake and also to have something meaningful to keep after the day. The two easiest options are either; fondant icing or modelling clay (Fimo) models.

The latter option also provides a souvenir to keep. Both are relatively forgiving methods and can be restarted very easily. The easiest way to make cake toppers are to follow visual guides and videos. These will give proportions and tips throughout the creative process.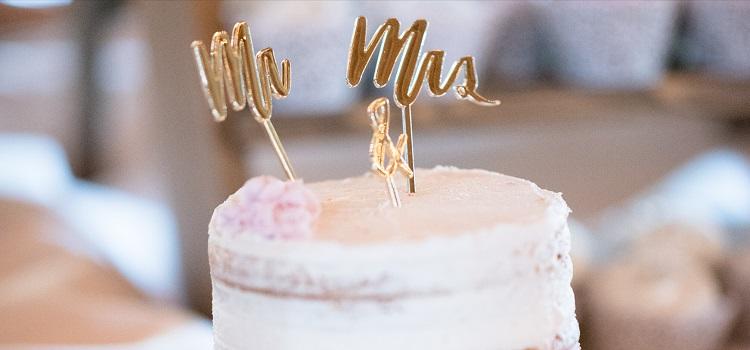 Making edible cake toppers from fondant icing
The Cake Tower tutorial gives a well-paced but very in-depth series of tutorials, which have a few different stages so the creative process can be spread out over a couple of evenings. The Delicious cake design tutorial gives a more simple overview of how to make a figure.
Making a wedding cake topper from modelling clay
The Nouskie tutorial focuses on the assembly and assumes from the start that you have the Fimo that you need. This tutorial is fast-paced, and it is recommended to watch it once before trying to follow it as you make your own.
How to create fresh flower wedding cake toppers
One of the best videos online that is hugely informative is from Bunchesdirect. This video is practical, easy to follow and gives good advice dependent on your cake style.
Where to buy cake topper materials on the high-street
Cake topper Fimo clay can be bought at any local art shop. Hobby Craft stores also have a wide selection of Fimo clays and colours. Alternatively, clay can be purchased cheaply online via the Amazon market place.
What is the best fondant icing to buy for wedding cake toppers
It is recommended to go for modelling paste as this dries hard and is less likely to deform in transit to your wedding venue. A lot of larger supermarkets will stock modelling paste in the baking section, and Sainsbury's even has its own brand.
Related articles: wedding cake designs and flavours - wedding cake makers