Wedding decorations for your venue
Confused about what wedding decorations will best fit your venue? Look no further, scroll down for ideas and quick tips of wedding decorations for all venue types.
Related articles: wedding favours creating a seating plan table decorations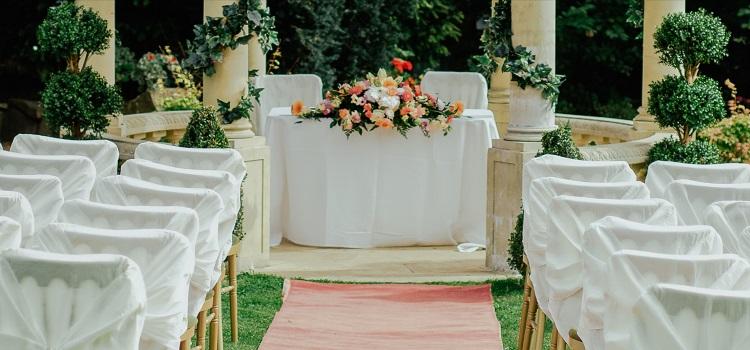 Church wedding decorations tips
As church ceremony decorations are often restricted, it is wise to check what floral decorations are allowed before going any further. It is also likely that preparation of the church will only be permitted on the morning of the wedding so easy to set-up decorations are recommended.
Church ceremony decorations should be simple and elegant. For a classic look, opt for fresh flowers that line the end of the pews and a couple of flower arrangements at the altar. This minimal style will enhance this romantic, spiritual venue without eclipsing the beauty of the wood and stonework. In terms of colours, it is recommended to go for whites, muted tones or have a single pop of colour for a coordinated look.
Church wedding decoration ideas
Single or trio of white roses held together with an organza bow.
Delicate poses of gypsophila sitting in glass jars (see below).
Sunflowers held by craft ribbon lining the pews.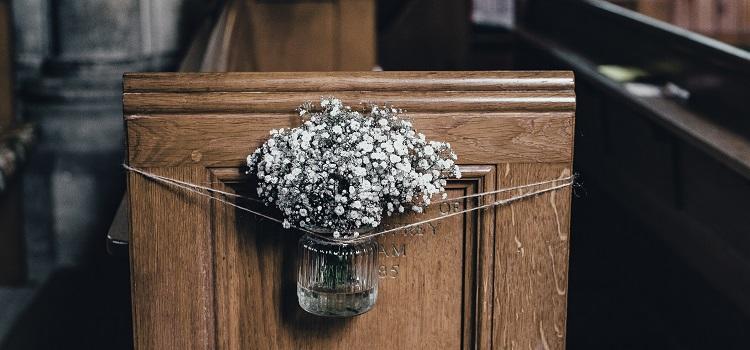 Castle wedding decoration tips
Castle wedding venues have distinct historical interiors that need little decoration as the interiors will speak for themselves. It is often wise to decorate this type of venue with vibrant colours that contrast/complement the stone and woodwork. It is recommended to only use chair covers and sashes if the decoration is minimal; otherwise, modern elements can look out of place and cause a 'white-out' effect.
Castle wedding decoration ideas
Ivy greens used as decoration on the end of chair rows
Historical Candle holders and hurricane lamps encircled with lush greens and ivy
A dusting of blue or lilac flowers for stone floors
Related articles: creating a seating plan table decorations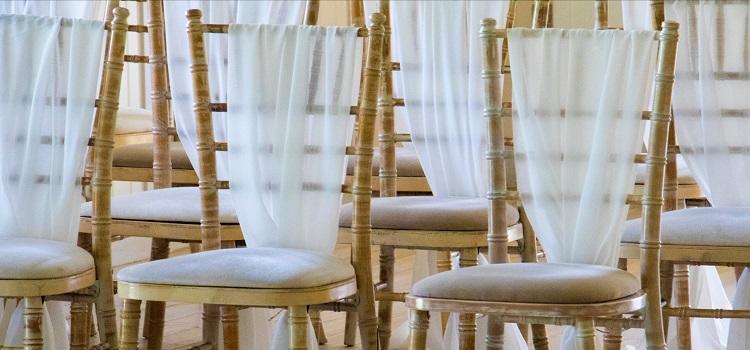 Outdoor wedding decoration tips
An outdoor wedding ceremony will have abundant natural decoration, which can be enhanced with a few simple bohemian, craft touches. If your venue is located in a wide-open space, it is wise to have a few larger freestanding foliage or flower arrangements to enclose the area and make it feel a little more intimate. This will also boost the acoustics.
If you prefer not to walk on grass or gravel, it can be wise to put down a natural coloured or hessian aisle roller. However, do make sure the weave is fine so your heels will not catch as you walk down the aisle.
If you are getting married in peak season and it is hot, it is recommended to have canopy nearby for guests who cannot take the sunshine for too long. Last-minute touches including sunglasses or fans placed on guest seats are also a thoughtful and fun touch.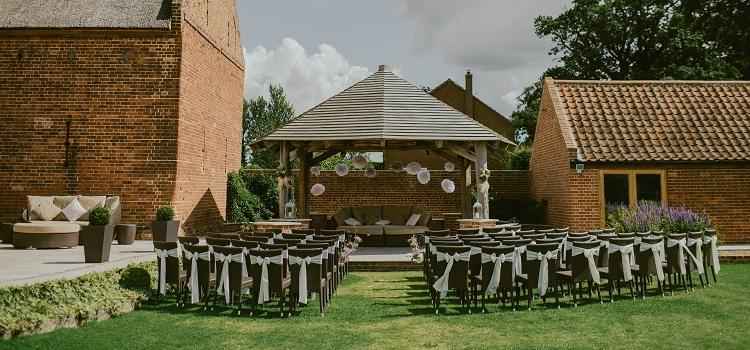 Outdoor wedding decorations ideas
For spring weddings keep aisle decorations and flowers minimal to allow the venue to speak for itself and choose natural or white decorations and lush greens.
For summer weddings opt hessian aisle carpet to contrast greens and line the aisle with delicate flowers in glass jars.
For autumn weddings having a dusting of autumnal leaves down the aisle and autumnal colour sashes on the chairs.
If you are braving winter outside, then tea lights lining a wide aisle and fire-pits at the start of the aisle can add a romantic and warming touch.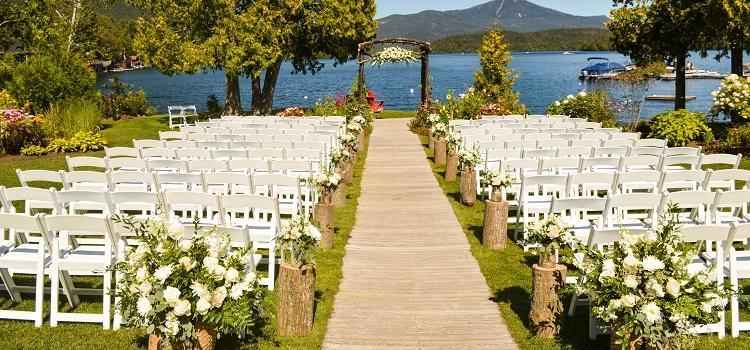 Country house wedding decoration tips
Country house wedding ceremony venues will often allow considerable discretion when it comes to decoration, but it is wise only to use arrangements that will enhance the aesthetics. Try to balance the size of decorations to the proportions of the furniture and size of the room. Chair covers should only be used if the chairs are not attractive; this will limit a 'whiteout' effect, which could mask your dress in pictures. Organza sashes in white or a soft hue can add a tasteful finishing touch.
Country house wedding decoration ideas
A gentle dusting of white roses down the aisle on wooden floors
A dusting of blue or lilac flowers for stone floors
Green foliage at the end of rows for very white or light rooms
Candles in jam jars for broad aisles where there will be no chance your dress will knock them
A more elaborate floral decoration on the book signing table which pulls together the season/colours
Related articles: creating a seating plan table decorations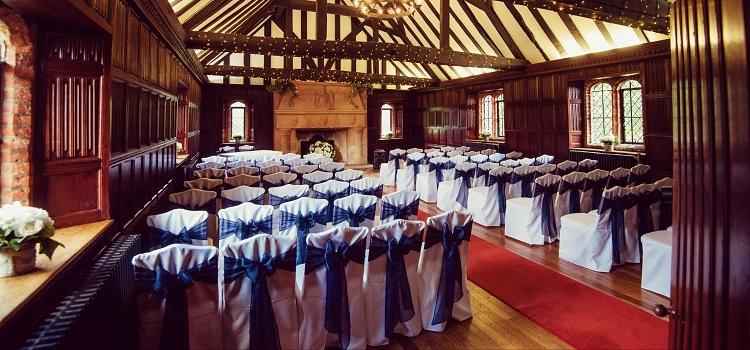 Registry office decoration tips
As registry offices will often hold multiple weddings per day, ceremony decorations come will be provided, and there is limited scope or need for adding your own decoration. Registry rooms will usually have neutral decorations to suit any wedding theme. If opting for this ceremony venue, it is recommended to focus on your reception elements or decoration.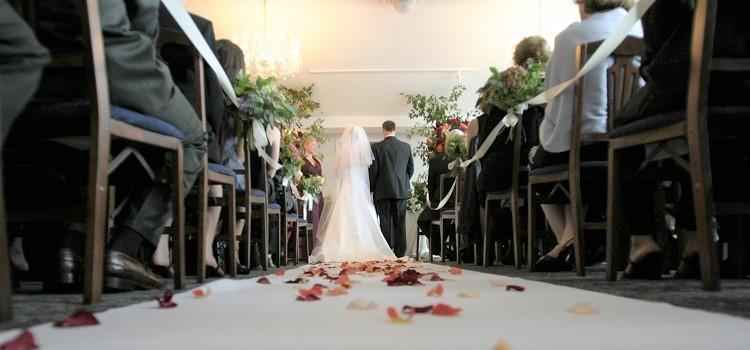 How much to spend on wedding ceremony decorations
Below are average UK prices for renting wedding ceremony accessories:
Plain white chair covers 99p to £2.50 (per chair)
Plain white chair covers with sashes, £2.50 to £4.50 (sash materials in order of cost are; organza, silk and hessian))
Standard aisle runner £150 - £175: Lengths longer or broader than 2m x 10m will incur an additional cost
If opting for fabric wedding ceremony decorations, it is advisable to check with your venue first to see what they offer. If going to a hire company, use one that quotes for all additional decoration for ceremony and the reception to ease set up on the day.