Finding the right wedding dress
Shortlisting dresses and finding the right wedding dress that makes you feel beautiful can be a difficult decision when there are so many options to pick from.

This article is designed to give you wedding dress shopping tips and hints to make sure you go for a look that is elegant, timeless and totally you.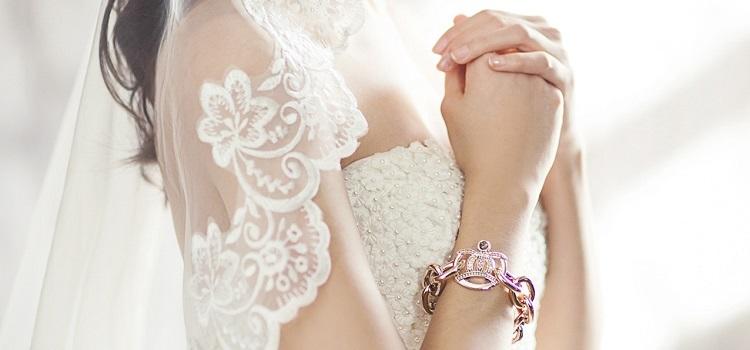 What to wear to dress appointments
Loose fitting clothing that is effortless to take off multiple times
Strapless white bra or underwear that will not detract from different neckline
Comfortable knickers that are white or a light colour
A pair of shoes with the heel height you would want
Bridal dress appointments: What to expect
Bridal dress appointments usually last 60-90 minutes and will tend to follow a pre-defined structure.

Brides-to-be will be greeted by a consultant who will ask initial questions about the day and dress style preferences. Usually, there is the time to browse the shop and select a few dresses to try initially.

While trying on these dresses, the consultant will carefully listen to your preferences and feedback and bring out other dresses to fulfil your wants.

Once an ideal dress or preference is shown, the consultant will get accessories such as a veil so the look can be completed. At the end of the appointment, the consultant will give full details on preferences.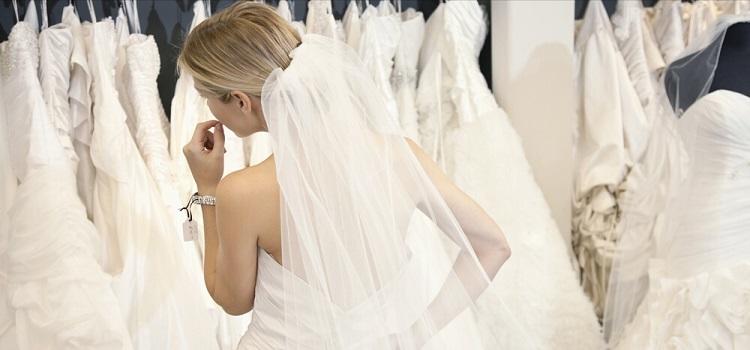 How to make sure you get the most from your consultant
Bring pictures of styles you like
Know your wedding dress key terms
Know what colour dress, the style you want Be bold and tell the consultant what you prefer/don't like
Ask their opinion but follow your instincts.
Top tips when trying on wedding dresses
Wear heels when trying on dresses
Standing on a block will give you a distorted view of how the dress would look on you (unless you are suddenly going to grow 6 inches). Whereas, heels will provide you with a realistic height where the dress detail will fall.
Clip your dress to fit your figure
Consultants will use lots of tricks to make sample sizes look just right on different figures.

Ask for the bodice to be clipped and avoid foam blocks stuffed down your back. Clips will give you an idea how the dress could look from behind. Whereas, blocks will mask how the dress would feel and will distort rear viewing of it.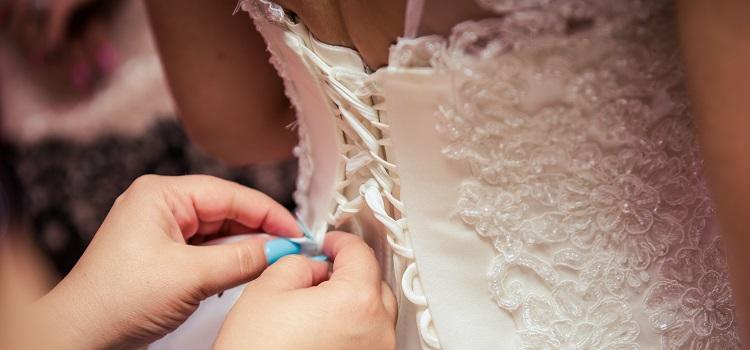 Walk, sit, jump and dance
although it can feel a little embarrassing to start off with, it is essential to take a walk around the shop and to sit in your dress.

On your wedding day, you will constantly be moving, and it is vital that you can move with ease and feel comfortable doing so.
Snap away
Do take a silent snap of the dress when you are in the fitting room (only if entirely alone) or, if allowed, ask for the consultant to take some pictures.

If pictures are strictly not allowed, make a note of the dresses you liked and any specific detailing. Always return to your favourite dress before leaving, so it is fresh in your mind.
Ask to try an underskirt
Irrespective of the dress (unless it is a figure-hugging sheath or column style), do ask to try on an underskirt to see the effect this has on the skirt's shape. These can dramatically alter the skirt shape and feel.
How to know you've found the right dress
You don't want to take it off
You feel like a bride or at least very special
Makes you happy/proud to have your figure
If you Leave the shop, sleep on it, and you are still thinking about the dress then get it.
What to consider when buying the dress
There are a couple of things to check before paying a non-refundable deposit.

How many alternations will be needed on the exact size ordered (and how much will this cost?)
Is the size ordered closest to your usual clothing size and is there an option to buy a longer/short length dress (some designers will have this option)
Is the dress being ordered in the correct colour for you (make sure it matches the one tried on)
Will an underskirt be needed (and how much will this cost?)
How many fittings will be involved (the more, the better)
Does the cost include a steam-press and can the dress be stored in the shop until near the day (leaving it at the shop will negate the stress of where to hide it)
Timescales – how the shop will contact you/keep you up to date, so you do not need to chase