bridesmaids: How to choose and who to ask?
Choosing your bridesmaids should be a touching milestone in wedding preparation. However, for many brides-to-be, selecting their bridesmaids without hurting feelings, and narrowing down bridesmaid numbers can become a fraught task.
The below article is designed to give a no-nonsense guide whatever your bridesmaid situation to make sure you have the right ladies standing by your side on the biggest day of your life.
Related articles: bridesmaids dresses - bridesmaid gifts - how to avoid bridesmaid regrets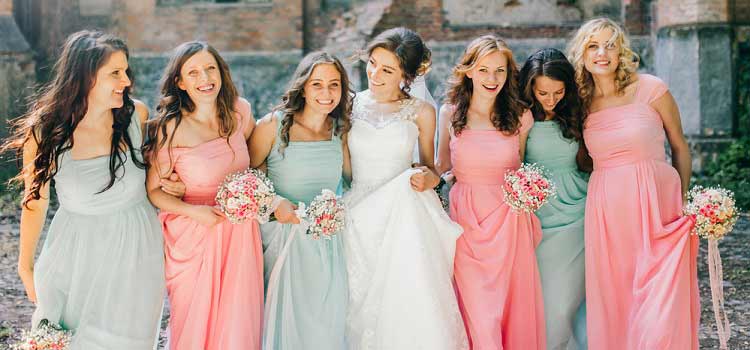 When to ask bridesmaids to be in your weddings
Asking your friends to be bridesmaids at an early opportunity will enable them to share the excitement you are already feeling.

As a general guide, it is wise to choose bridesmaids before starting your dress search, approximately 9-10 months before your wedding.

This will ensure that you will have trusted opinions and it will prevent others from building up expectations that they will be asked.
How to ask someone to be your bridesmaid
The internet is filled with extravagant ways to ask people that use gimmicks to shield the simple, beautiful gesture.
By far the nicest way is just to be asked face to face. It is an honour and a real privilege to stand up there with your closest females on their special day, and no extra spend here is needed.
If you do want to add a nice touch, do this with a simple piece of jewellery or something that can be used on the day.
Related article: when to ask bridesmaids to avoid regrets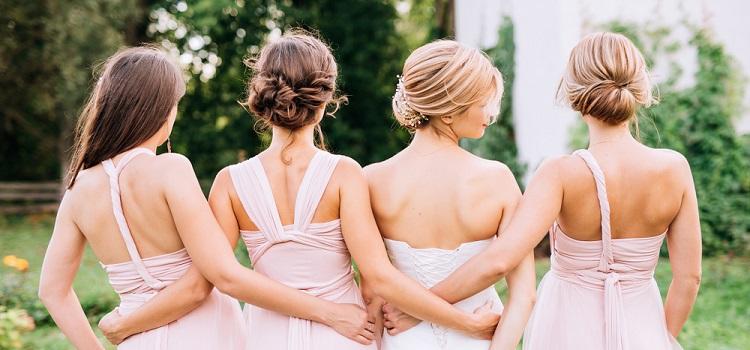 Which friends to choose to be bridesmaids
Selecting which friends to ask can be hard, but an easy rule to follow is to pick only those that you would call in your hour of need.

Think back to your last dilemma; who did you call? Who is the person that makes you laugh and picks up your mood no matter what? Lastly, who is the person that lets you shine and doesn't try to steal the spotlight?

These are all qualities you will need for your bridesmaids so only pick friends that embody these. If you worry about others feeling left out, there are plenty of other roles to assign to friends (outlined at the bottom of this article).
Choosing the right family members as bridesmaids
Some brides will have close family or even in-laws who they are very close to. For these brides, the inclusion of family is an easy decision.

However, for those family members who represent more of a blood or legal tie than a genuine bond, it is worth prioritising those you genuinely adore.

For other family members, there are alternative wedding jobs that can be assigned (these are included at the end of this section).
Related articles: who to invite
- wedding dress shopping - bridal party gifts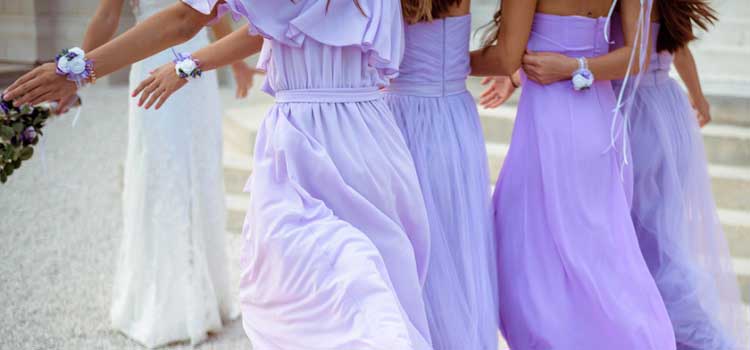 How to choose bridesmaids without hurting feelings
To choose bridesmaids without hurting feelings or having to undertake too many awkward conversations, it is best to act early and to stick with your decision.
A wedding is a once in a lifetime day that is centred around you and your partner's wishes. The people you select will have an intimate part of not only that day but the lead up to it.

By selecting only those you feel 100% comfortable with, you will limit nerves, arguments and thoroughly enjoy the build-up to walking down the aisle.
Occasionally a friend that 'may have expected to be asked' will enquire. In this type of situation, do not feel forced to ask them, you will most certainly regret this.

Instead be honest, state who your bridesmaids are, that your numbers were small due to a budget or that you would have loved to pick them, but you had to go with your oldest/closest friends. Follow up that they mean a lot to you and invite them to join some part of your wedding preparations.
Related articles: bridesmaids dresses
- mother of the bride dresses - bridal party gifts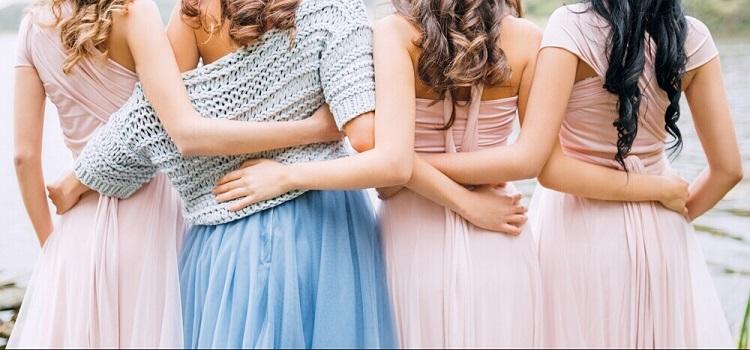 How many bridesmaids is too many
There is no hard and fast rule on how many bridesmaids is too many. When considering the number, do consider who will make your day truly special, how many bridesmaids you can afford and whether a large number is crucial to you.

From a practical perspective, it is also wise to consider that in the morning bridesmaids may need to have hair and makeup done if they choose to – picking too many can make the morning too much of a military exercise and will put pressure on you to coordinate. Unless you are exceptionally popular, a general rule to follow is to have five or fewer bridesmaids.
Remember a wedding is not a popularity contest and the larger the number of girls the more likely you are to have bridesmaid dramas and difference of opinions.
Related articles: finding a makeup artist - bridal makeup styles
- finding a hairstylist -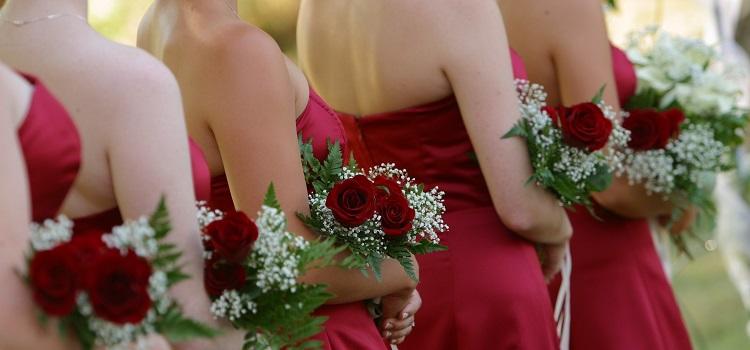 What to do if you don't have many friends to be bridesmaids
Having only a few or no friends to be bridesmaids can be a source of worry for a lot of brides. In reality, everyone is different, and many people do not have that many good friends.

A wedding is not a show for others but should be a day that is all about you and your new husband. Wedding planning should also be fun, and if this topic is causing concern, it is best to make a decision and stick to it.
Alternative options can be to have one maid of honour or a man of honour. Or to completely discount this element and save a lot of money (and stress).

Friends and family attending will already know you intricately and, from a vast experience of weddings without bridal parties, this is never a topic that guests discuss. Guests are more focused on the venue, your dress, how happy you are, the food and drinks.
Does the number of bridesmaids and groomsmen have to match?
The number of groomsmen and bridesmaids does not have to balance and, by trying to create exact number, couples often put themselves under undue pressure.

It is important to pick the closest people to you, and the job of the photographer is to find a beautiful composition.
Related articles: getting perfect pictures - finding a photographer -bridesmaids dresses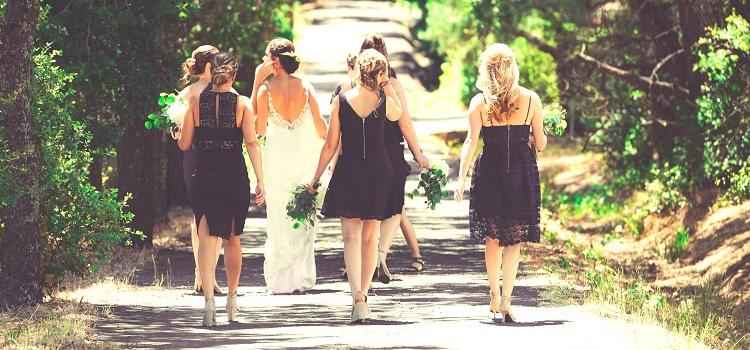 Alternative roles for non-bridesmaids
Transport planners
Think Brendan from coach trip, a confident fun friend who can make sure your other guests get on the coach and get there in time (if you are organising wedding guest coaches/bus transport)
Ceremony readings
This is an honouree job that should go to someone who's spoken word will touch you both and someone who is happy to do this.
Witnesses
These two people will be the ones that are forever on your certificate and the ones that get to congratulate you first. Save this role for your favourite people.
confetti girls
These can be your bridesmaids, or other girls that you know will make sure everyone takes a handful of wedding confetti but no more.
Dancefloor divas:
These are the people that you know can draw a crowd and will get others dancing.
Next step: bridesmaids dresses