How to choose bridesmaid dresses to match your wedding dress
Gifting your bridesmaids with gorgeous dresses will make your favourite women feel stunning and confident on your big day. Let go of worry about being overshadowed, this is not possible, and find dresses your friends will love you for picking.
Below is a complete guide to choosing bridesmaid dresses that will enhance your bridal look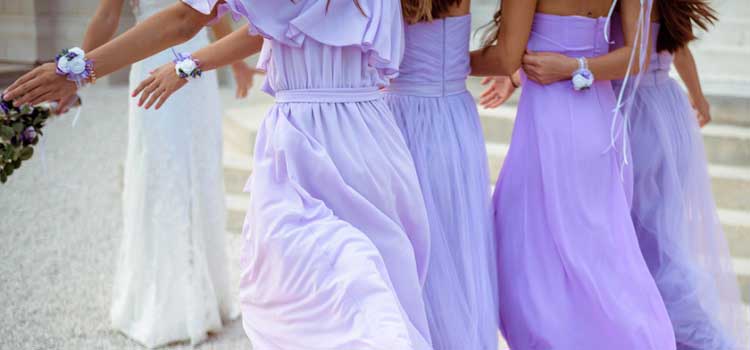 Who pays for bridesmaid dresses
In Britain, the bride pays for the bridesmaid dresses. However, it is acceptable to ask that your bridesmaids buy their shoes and accessories. In America, bridesmaids are expected to pay for their dresses, within reason. However, it is a nice touch to pay for their accessories.
How much to expect to pay for bridesmaid dresses
On average a bridesmaid dress shouldn't cost more than £100 ($150) unless you are opting for a bridal shop style, which can cost up to £200 ($250). If opting for a bridal shop, do make sure that alterations are included in the price or are reasonably priced.
Related articles: wedding makeup styles wedding flowers bridal shoes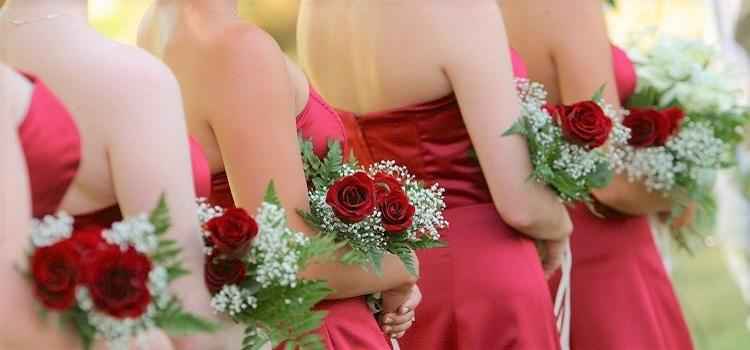 Matching bridesmaid dresses to your wedding dress
Simplicity is essential as bridesmaid dresses should look beautiful and match the wedding dress. Typically, cleavage should be tasteful, and any splits in the skirt should go no higher than mid-thigh. Where possible, try to match the necklines of your dresses and pick similar length gowns to ensure your dress is enhanced in pictures.
How to choose bridesmaid dresses to flatter all figures
The style and fit of the bridesmaid dresses should flatter all. Floor-length, flowing gowns that have necklines to complement or contrast your own are safe options, which suit all figures, and universally available whatever the season. Make sure that the dress fabric is not too sheer that could be revealing in different lighting.
Related articles: bridesmaid gifts bridal shoes bridal accessories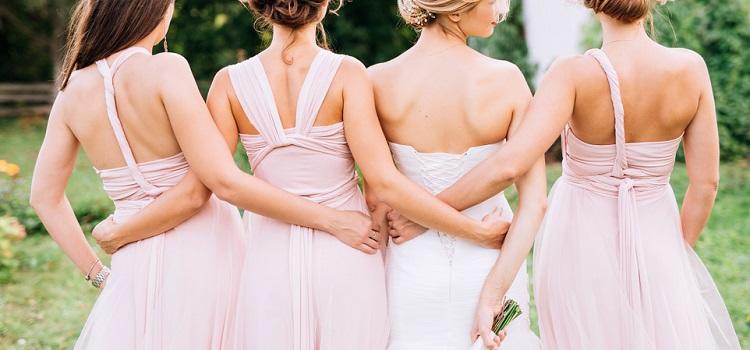 Selecting bridesmaid dress colours
While the colour choice is the bride's. It is recommended to pick a universally complementary shade, especially if your bridesmaids have vastly different complexions. Popular shades include; navy blue, blush pink, deep purple and teal.
When picking bridesmaid dress colours consider:
What colours are in fashion and abundantly available.
Your bridesmaids' complexions.
The colour scheme of the venue, so the bridesmaid dresses standout.
A colour or shade that the groomsmen can also wear.
Related articles: mother of the bride dresses bridal party gifts bridal accessories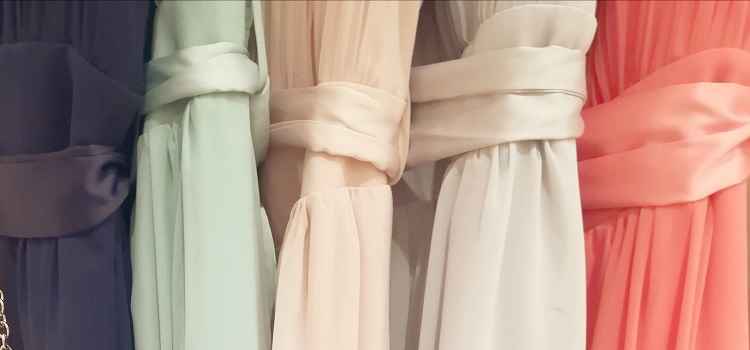 Getting bridesmaid dress inspiration
When looking for inspiration, it is worth looking at pictures from other weddings that have taken place at your venue to see which styles and colours stood out. It is also worth having a look at the high street websites and big online giants like ASOS too. Doing this will give you an idea of what is out there and plan the shops you want to visit in advance.
Make sure to share pictures with your bridesmaids via a dedicated WhatsApp group or a Facebook thread. Sharing ideas with your bridesmaids will make shopping a lot easier. It is also a nice touch to introduce bridesmaids before they meet in person.
Best places to buy bridesmaid dresses
Large out of town shopping centres and boutique outlets are the best place to start as there will be lots of options nearby. Specific larger stores that have a wide selection of dresses are:
Debenhams bridesmaid dresses: Debenhams has all the ladies formal clothing on one floor so a lot of the high-street stores can be easily compared and tried on together.
David's Bridal bridesmaid dresses: David's bridal offers an extensive range of traditional bridesmaid gowns in all sizes and colours. Dress shopping here is best booked in advance to get personalised service.
Quiz bridesmaid dresses: Quiz offers affordable bridesmaid style dresses in bold, seasonal styles.
Other shops that have extensive dress ranges include; Jane Norman, Coast and House of Fraser.
Related articles: wedding makeup styles wedding flowers bridal shoes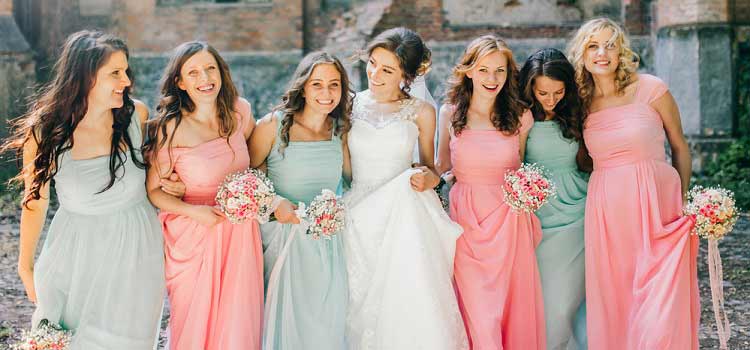 When to start looking for bridesmaid dresses
Start looking for bridesmaid dresses six months before your wedding to make sure you have time to shop around. It is wise to plan a time when all bridesmaids can join: Shopping altogether will make selecting a suitable style for all a lot quicker and easier. Where possible, try to go on a weekday for a much more relaxed experience.
Related articles: bridal shoes mother of the bride dresses wedding makeup styles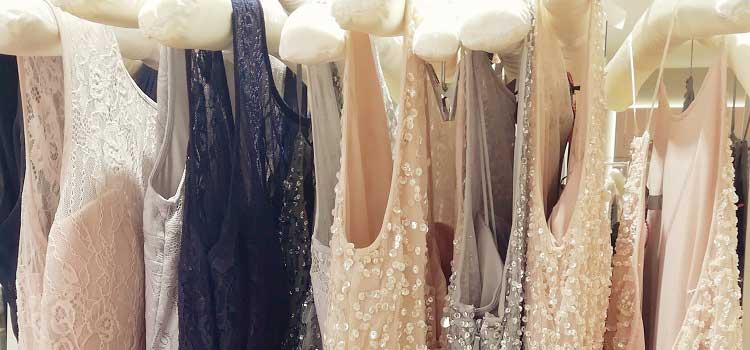 Best time of year to shop for bridesmaid dresses
Early spring or late autumn are the best times to ensure the widest selection. If you can bear it, January sales can also be a great time to grab a bargain on beautiful dresses that are in the last season's colours.
If you decide on a very seasonal colour, try to time shopping when there will be the most extensive choice. For example; before Christmas for darker shades and springtime for softer hues.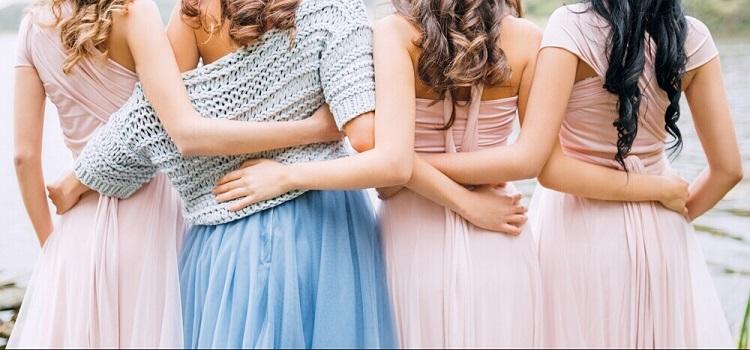 Bridesmaid dress shopping tips - how to avoid conflict
Once you have your inspiration, it is time to enjoy a girly shopping day out. Frame the day as a ''look at what is out there'', and then if you can't find what you are looking for, none of you will be let down. Remember to intersperse shopping for dresses with frequent breaks and take an interest in how your favourite girls are too. Also, make sure to:
1. Outline your wants and areas of flexibility straight away
2. Outline you will pay for dresses as you appreciate they will be to your preference
3. Remind your friends that you are honoured to have them as your bridesmaid
What to do if you can't find the right bridesmaid dresses
If you have hit the shops and had no luck, do not worry at all, this trip will have clarified sizes, tastes, fabrics and colours. If you are at the end of a season, it can be worth waiting a month for the stock to change, or to switch to online shopping where the selection can be much more extensive.
Related articles: mother of the bride dresses bridal party gifts bridal accessories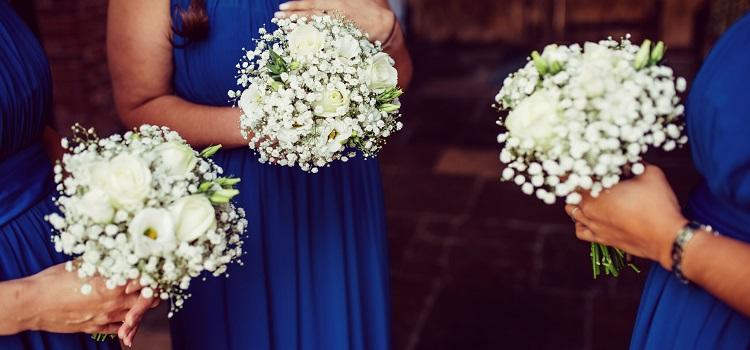 Buying bridesmaid dresses online
At first glance, ordering a set of custom dresses from abroad can seem like a low-cost way to get a quality product. However, before embarking on this method, it is worth considering if you have the time and funds to buy an alternative if the dresses do not match expectation.
If you do decide on this option, make sure to do some internet research on the company to make sure there are enough good reviews and happy customers. Do also look at the full shipping costs as these can significantly change the price, and these costs are not always explicitly outlined.
Who should look after the bridesmaid dresses before the wedding
Once dresses have been bought, give them to your bridesmaids: This will enable them to match shoes if needed and will mean one less thing for you to look after on the day.
Next steps: mother of the bride dresses