picking bridesmaid dresses that complement your dress
Once you have selected the dress of your dreams, it is a perfect time to turn your style attention to your bridesmaids. Dress shopping with your bridesmaids should be a fun activity, but all too often it can be fraught with a difference of opinions.

Below is a straightforward guide covering everything you need to consider when picking bridesmaid dresses to avoid girl drama.
Related articles: mother of the bride dresses - bridal party gifts - bridesmaid gifts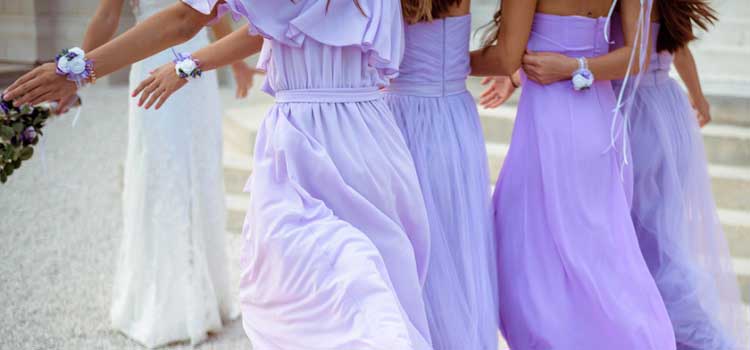 When to start looking for bridesmaid dresses
It is recommended to start looking six months before your wedding to make sure you have time to shop around. Bridesmaid dress shopping should be a low-stress activity and realistically is worth turning your attention to only when the core components have been sorted.

It is essential to only start focusing on the bridesmaid attire after selecting your dress: Their dresses should compliment and enhance your choice of dress.
When is the best time of year to shop for bridesmaid dresses
If you decide on a colour that is very seasonal, try to time shopping when there will be the most extensive choice. For example; before Christmas for darker shades and springtime for softer hues.

If you can bare it, January sales can also be a great time to grab a bargain on beautiful dresses that are in last season's colours.
Related articles: wedding makeup styles - wedding flowers - bridal shoes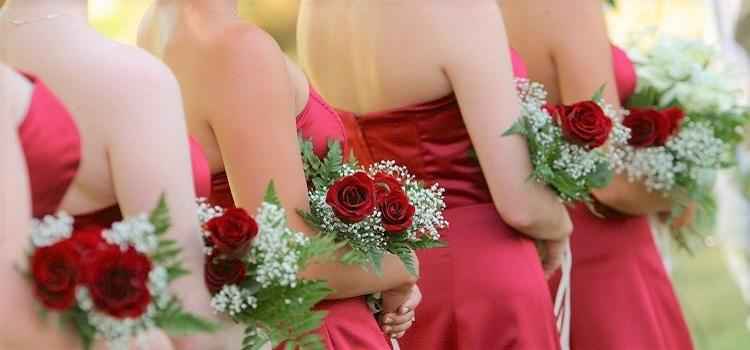 Who traditionally pays for bridesmaid dresses
In Britain, the bride should buy bridesmaid dresses and also cover the cost of shawls if getting married in colder months. However, it is acceptable to ask that your bridesmaids buy their shoes and any accessories they want unless you want a specific style.
It is important to remember that the girls you have selected to be in your bridal party will have their financial priorities; being a bridesmaid shouldn't be overly costly.
How much to budget for bridesmaid dresses
It is hard to set an exact budget before hitting../images/bridesmaid-dress-81.jpg the shops, but on average a bridesmaid dress shouldn't go over £100 unless you are opting for a bridal shop style, which can cost up to £200.

If choosing for a specialist bridesmaid dress. If opting for a bridal shop, do make sure that alternations are included in the price or are reasonably priced. When considering a budget, it is also worth considering which other items you will be purchasing for your bridesmaids and what you will expect them to buy.
Related articles: bridesmaid gifts - bridal shoes - bridal accessories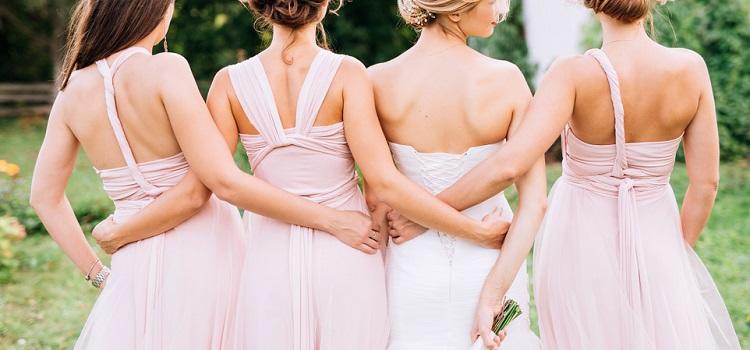 How to choose the colour of your bridesmaid dresses
Your bridesmaids will each have their favourite shades, which make them look fabulous, but the colour choice should ultimately be yours. For a more cohesive wedding, it is also wise to include your fiancé's preferences too so the entire bridal party will all look co-ordinated.

It is recommended to pick a universally complimentary shade of your colour if your bridesmaids have vastly different complexions, so they all feel gorgeous.
When picking a colour do consider what is in fashion and if you will be realistically able to source your colour. While specialist bridal shops will permanently have every shade under the sun, the high street will follow seasonal changes.
When picking a colour, also consider your venue decoration. It may sound over the top for some brides, but for others having dresses that stand out and compliment the venue can add an elegant touch.

Where possible, try to go for colours that contrast brickwork or interior colours, so your bridesmaids do not fade into the background.
Related articles: mother of the bride dresses - bridal party gifts - bridal accessories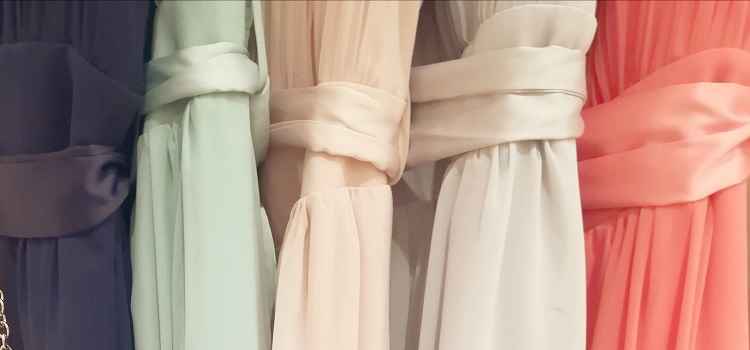 Picking bridesmaid wedding dress styles all body types
While the colour is your choice, the style and fitting should make your bridesmaids feel comfortable and beautiful.
Floor-length, flowing gowns that have necklines to compliment or contrast your own are safe options and universally available whatever the season. These will also give an elegant background to set off your dress.
When opting for fabrics make sure they flatter your bridesmaid's figures and are not too sheer that could be revealing in different lighting. Typically, cleavage should be tasteful, and any splits in the skirt should go no higher than mid-thigh.
Simplicity is essential as bridesmaid dresses should look beautiful but are there to enhance rather than distract from your dress.
Finding bridesmaid dress inspiration
When looking for inspiration, it is worth looking at pictures from other weddings that have taken place at your venue to see which styles and colours stood out.

It is also worth having a look at the high street websites and big online giants like ASOS too. Doing this will give you an idea of what is out there and plan the shops you want to visit in advance.
Related articles: wedding makeup styles - wedding flowers - bridal shoes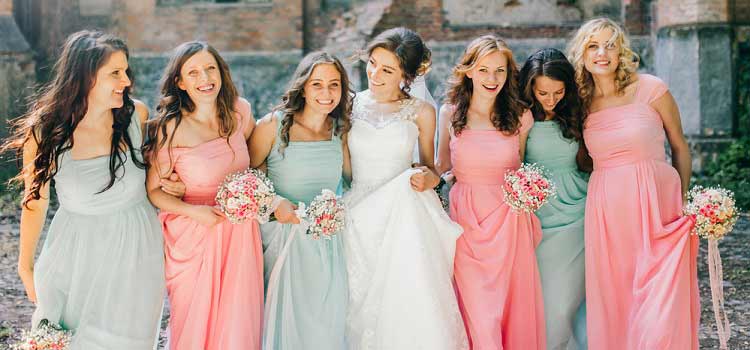 How to share your bridesmaid dress inspiration and ideas
Sharing ideas with your bridesmaids is easiest via a dedicated WhatsApp group or a Facebook thread. These will enable you to communicate to all the girls at once, share colour and style inspiration and allow everyone to get an understanding of what you want so you are unified in opinion before going shopping. These social media tools are also an excellent way to introduce your bridesmaids before they meet in person.
The best high-street shops for bridesmaid dresses
Large out of town shopping centres and boutique outlets are the best place to start as there will be lots of options nearby. Also, specific larger stores that have a wide selection of dresses are outlined below:
Debenhams bridesmaid dresses
Debenhams has all the ladies formal clothing on one floor so a lot of the high-street stores can be easily compared and tried on together.

The changing rooms are light airy, and it is a pleasant environment to spend time in. Shop assistants are very helpful, and there is a café in the store if a break between trying on dresses is needed.
David's Bridal bridesmaid dresses
The dresses at David's Bridal can be slightly more expensive, but the shop offers classic bridesmaid dresses, colours and shapes to suit all. Dress shopping here is best booked in advance where possible so you can be assured of great service.
Quiz bridesmaid dresses:
While often viewed as a going out clothing store, some of the seasonal (notably before Christmas dress) dress styles in Quiz are beautiful, bold and at excellent prices.

The flagship store in Westfield Stratford can be neatly combined with a visit to David's Bridal.
Other shops that have extensive dress ranges are Jane Norman, Coast and House of Fraser.
Related articles: bridal shoes - mother of the bride dresses - wedding makeup styles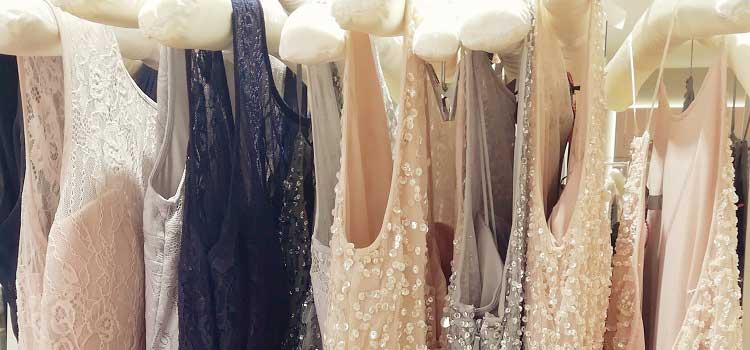 Preparing for a bridesmaid dress shopping day out
Once you have your inspiration, it is time to enjoy a girly shopping day out. Frame the day as a 'look at what is out there', and then if the right bridesmaid dresses cannot be found, none of you will be let down.

Remember to intersperse shopping for dresses with frequent breaks and take an interest in how your favourite girls are too.
When to go bridesmaid dress shopping
It is worth planning a time, where possible when all bridesmaids can join. This will make selecting a suitable style for all a lot quicker and easier.

It is essential also to consider that as spring starts most shops start to think weddings, this can be an excellent time for a shopping trip, but it does also mean there can be a bit of a scramble for the right dresses so shopping mid-week where possible is recommended.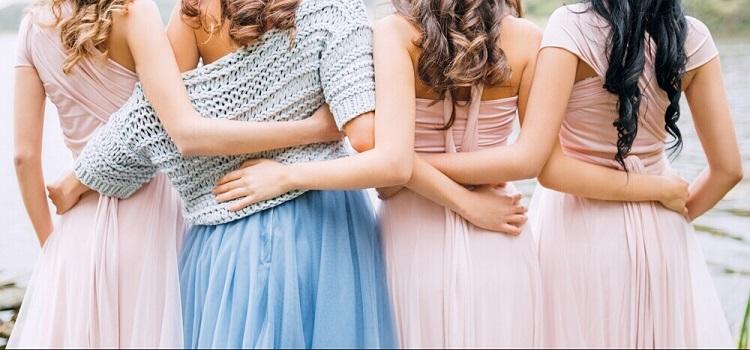 Bridesmaid dress shopping tips - how to avoid conflict
1. Outline your wants and areas of flexibility straight away

2. Outline you will pay for dresses as you appreciate they will be to your preference

3. Remind your bridesmaids that you are honoured by their acceptance
What to do if you can't find the right bridesmaid dresses
If you have hit the shops and had no luck do not worry at all, this trip will have clarified sizes, tastes, fabrics and colours.

This is all very helpful. If you are at the end of a season, it can be worth waiting a month for the stock to change, or to switch to online shopping where the selection can be much more extensive.
Related articles: mother of the bride dresses - bridal party gifts - bridal accessories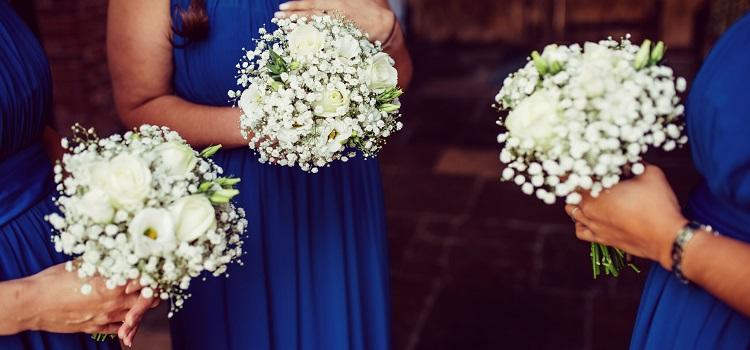 When should bridesmaid dresses be ordered
At first glance ordering a set of custom dresses from abroad can seem like a low-cost way to get a quality product. However, before embarking on this method, it is worth considering if you have the time and funds to buy an alternative if the dresses do not match expectation.
If you do decide on this option, make sure to do some internet research on the company to make sure there are enough good reviews and happy customers.

Do also look at the full shipping costs as these can significantly change the price and these costs are not always explicitly outlined.
Who should look after the bridesmaid dresses before the wedding
Once the dresses have been bought or delivered, it is then recommended to give them to the bridesmaids to look after until the big day.

This will enable them to match shoes if needed and will mean one less thing for you to look after on the day.
Next steps: mother of the bride dresses