The most comfortable wedding shoes
Buying a comfortable pair of wedding shoes will ensure you can dance and glide around all day. The below page gives an independent guide to the most comfortable wedding shoes you can buy and how to stay comfortable on your big day.
Related articles: bridal shoes finding a wedding dress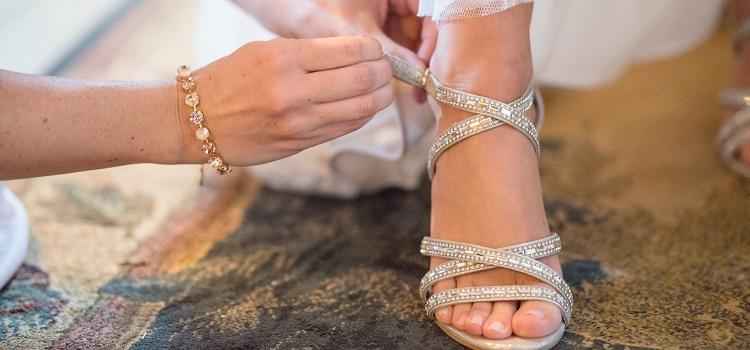 Most comfortable bridal shoe types
Bridal kitten heels
These delicate and feminine shoes have a low heel, which is perfect for a shorter wedding dress or for those who want a much lighter summer sandal style shoe. These shoes look beautiful, but should only be worn for summer, or indoor weddings. These are an excellent option for brides who may want to switch to a flat pump later as the hem of the dress will hardly alter.
Bridal court shoes
These classically shaped, medium-heeled shoes will support your feet in all the right places and ensure that you are the last one standing on the dancefloor. Court shoes are a great safe option for brides who do not usually wear heels and want something sturdy. Court shoes are great options for winter weddings as the closed-toe will ensure that your feet are kept warm and dry.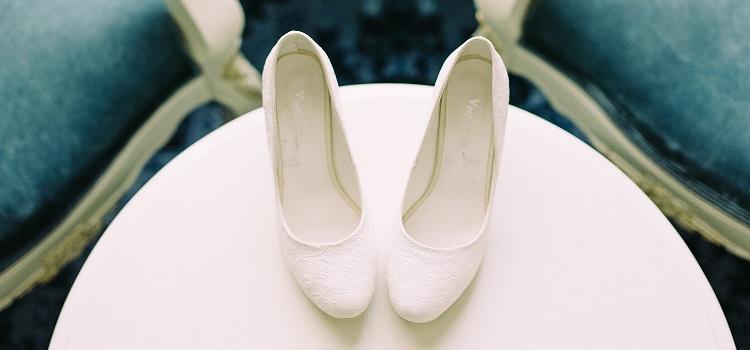 Wedding wedge shoes
These shoes provide a wedge of support along the entire length of your foot, giving optimum comfort and balance. Wedge shoes make walking on uneven or grassy surfaces a doddle. This type of shoe is also very easy to glide in for brides who do not wear heels and are worried about twisting their ankle.
Mary Jane bridal wedges
These specific wedge shoes have an additional strap over the front of the foot to ensure that your feet stay planted withon the shoe. This style can also lessen rubbing. The Mary Jane style in any of the shoes listed will give confidence to brides who are concerned their foot may slip out of a slip-on shoe. Mary Jane wedge shoes are perfect for outdoor or peak season weddings where the bride will be moving a lot.
Block-heeled bridal shoes
These clumpy heeled shoes are less elegant than a kitten or court shoes, but what they lack in style are matched by the comfort and ability to have a higher heel. These are a safe and recommended option for brides wanting a high-heel without the pain of a stiletto.
Related articles: wedding dress shopping dress colours and fabrics
How to choose comfortable bridal shoes
Use the below checklist to ensure you pick the most comfortable bridal shoes and do not have to face returning them:
There is padding under the heel and ball of the foot area.
The shoe is made of a flexible, natural fibre.
The width of the shoe is slightly wider than you would typically opt for and toes can wriggle.
Optional straps are soft, and buckles will not rest against your skin.
There are no sharp edges around the top of the shoe that could dig in.
Wear bridal shoes before the big day
After buying your shoes, make sure to wear them (within the 28 day return period) for extended durations around the house or even within your workplace if the flooring is clean. This will ensure you wear them in and get used to the difference in heel height.
In this period, keep your receipt and all labels attached to the shoes in case a return is needed. Bridal shoe stores expect that this may happen so do not be worried to return shoes – it is unlikely you will ever wear them if they are not comfortable enough for your wedding day.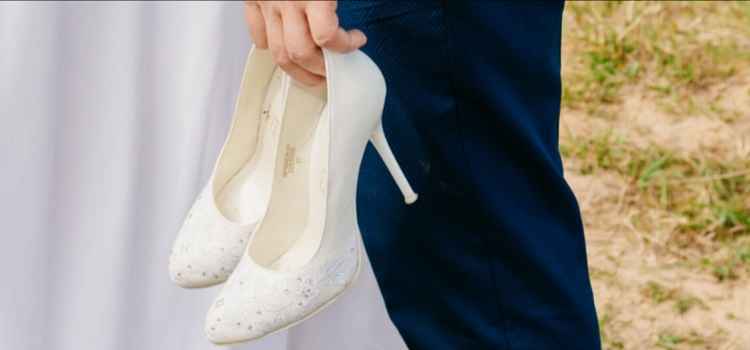 How can I make my wedding shoes more comfortable?
Avoid going for a pedicure a week before your wedding: The hard skin on your feet will give you an extra barrier to ensure comfort.
Add gel pads to the balls of your feet if your shoes do not have padding built-in.
Pack some cushioned plasters in your bridal clutch just in case you notice your shoes are starting to rub.
When getting ready, put your shoes on last, just as you are preparing to walk the aisle.
When sitting at the wedding breakfast, slip them off under your wedding skirt. No one will notice, and this short break will revive your feet for dancing.
Next steps: dress underskirts wedding veils bridal Jewellery