wedding dress shopping
Shopping for your perfect wedding dress should be a dreamy process filled with trying on spectacular gowns that make you feel utterly gorgeous, but all too often it becomes a stressful, overwhelming experience for many brides.
This article is designed to explain buying your wedding dress, dress fitting timescales, what to know before you go wedding dress shopping and the best places to find the gown of your dreams.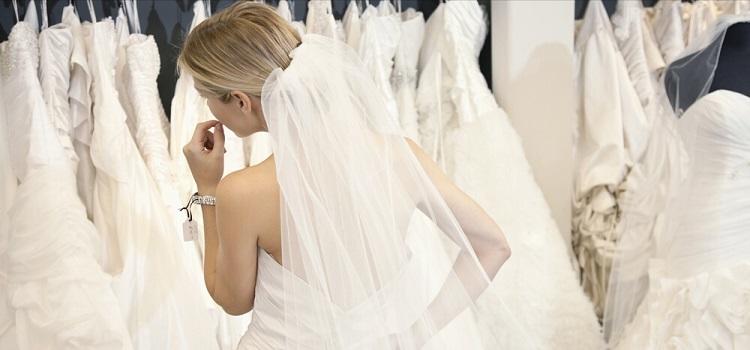 When to start looking for a wedding dress
It is recommended to order your dress between eight to ten months in advance.

While this may seem very in advance, wedding dress can take up to six months to be made and delivered. This timescale allows for fittings once the dress arrives. For summer weddings it is important to start looking in winter before/just after Christmas. By doing this, you will cut out the last minute stress.
wedding dress timescales every bride should know
10 months: Start shopping for wedding dresses
8-9 months: Order your dream dress
2-3 months in advance: Start having wedding dress fittings
3-4 weeks: Last wedding dress fitting
3-7 days: Pick up your dress from the bridal boutique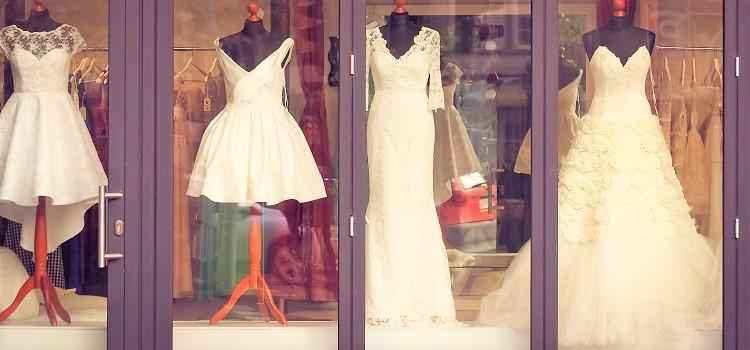 Preparing for wedding dress shopping
Learn what colours and styles flatter your figure
To optimise the time you spend trying on dresses, it is crucial to know what colour white and fabric will flatter your complexion and what style of wedding dress will make enhance your figure.
When looking around, try not to fall in love with one specific dress but rather a general style to avoid a stressful dress hunt. Also, try to focus on your taste and style rather than seasonal trends.
Learn wedding dress key terms
wedding dress consultants will advise your selections, but it can be very helpful for them to know the wedding dress style you are looking for you in terms they will understand.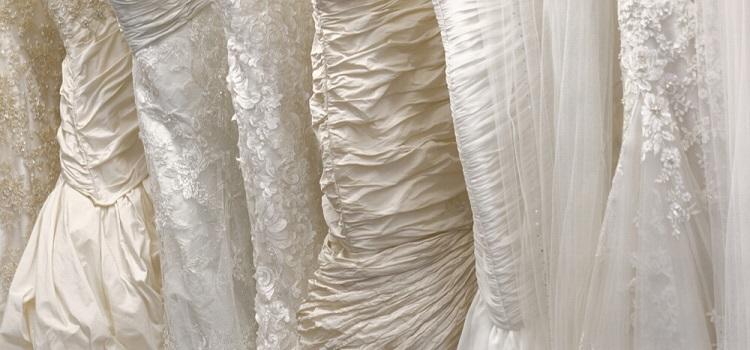 Book bridal dress appointment in advance
Bridal shop appointments get booked up quickly. Therefore, do plan wedding dress appointments a few weeks in advance, which will enable you to visit two-three shops in one day. Keep an open mind before visiting a shop: Looking online will give an idea of designers they have but the actual dresses in the store can massively vary from what is online.
Dress and alteration prices can vary
Once you have decided on a specific dress, do also call around and get prices (including alterations). To make sure you get the best deal. Some shops can seem cheaper until you add in the alteration costs.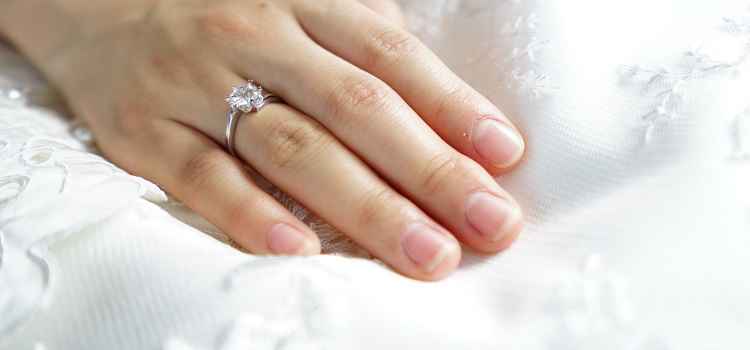 Where to find discounted, cheaper wedding dresses
wedding designer trunk sales
If you have a specific wedding dress designer that you adore, it is worth looking out for trunk sales on their websie. Trunk sales are when specific designers showcase their dresses in a shop. Often there are great deals, a more extensive selection of dresses and off-the-rack samples to buy. Local bridal shops will also advertise trunk sales, and it is recommended to book a slot in advance.
Bridal boutique sales
Quite regularly bridal shops and boutique will advertise sample sales. This is when they are clearing out the dresses that shoppers try on. Sample sales can offer dramatic reductions of up to 50%.
However, if opting for a sample dress, it is wise to keep an eye out for marks and discolouration, particularly on stark white dresses. When opting for a sample dress, is it worth asking if any further discounts and cleaning can be provided for the dress..
End of season wedding dress sale
Due to the proliferation of wedding dress seasons, there are often great deals to be had at the end of each dress season. The best seasonal sale to shop in is between October and December. If deciding to shop in the sales, it is recommended to select a mid-week appointment to avoid fighting over dresses.
Where to start dress searching
As one of the wedding planning highlights for a lot of brides, it is recommended to make sure you visit a few bridal boutiques and larger stores before deciding on your dress. Do expect to fall in love with a lot of dresses but there will often be one that makes you look radiant.
When starting out, it is wise to visit a larger bridal store where the choice and range of dresses are larger and then a few smaller boutiques where the service will make you feel more special.
Large stores countrywide are David's bridal, Wed2be, Debenhams. For smaller boutiques, it is wise to do a google search in your local area.
While it may seem that you can visit a few stores in one day, wedding dress 'white out' can set in quickly, so it is recommended to only fit two-three shops in one day and to savour these experiences.