Selecting a wedding cake maker
If you decide to opt for a specialist wedding cake maker, it is key to find the right person to make your sweet dreams come true. Scroll down for a complete guide to selecting the right wedding cake maker and getting the most out of cake tastings.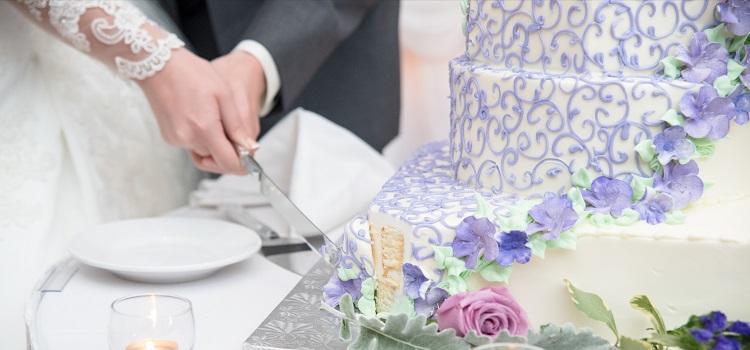 How to find wedding cake makers near you
The easiest way to start your wedding cake baker search is to start by looking online using the below tools
Preferred wedding cake makers on your venue's website: These suppliers will often be preferred for good reason due to their service, quality of cakes and good working relationship with your venue. This can help to ensure that you cake is truly memorable and the on-day delivery to venue is hassle free.
Wedding cake makers located close to your venue via a Google map search: By focusing your search on local cake makers this will ensure you cake is delivered intact by the baker directly, reduce delivery costs and also ensure that any cake tastings can be incorporated into other wedding activities on the same day.
View Wedding cake makers who have been nominated for regional awards: A short search on wedding industry award websites will often yield the most talented cake makers and those that come highly recommended by other couples.
Related articles: wedding cake designs and flavours wedding catering options hiring a caterer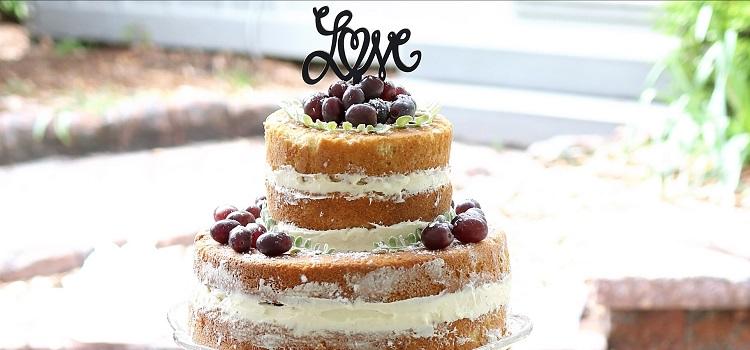 Shortlisting wedding cake makers
Once you have found a few suppliers, it is worth comparing their services and cakes online. Try to pay particular attention to the below points to find the most talented wedding cake makers:
Make sure finished cakes look perfectly straight and decorating is uniform.
The cake designs and styles show versatility and personalisation
Both sponge and filling flavours are refined and sound delicious
Pricing and particulars of their service are detailed expectedly
Questions to ask wedding cake makers
It is worthwhile contacting your shortlist of cake bakers to find out vital information before choosing who to visit – this will save a lot of additional effort. Key questions to ask are:
Will they deliver to your venue and is there a cost for this?
Is a cake stand and knife included in the price or covered by a refundable deposit?
Ask for an initial quotation based on the guest number and approximate design (for example 3 tier, sponge for 70 people)
Is a cake tasting included in the price?
What is their backup plan in case of sickness/unforeseen circumstances?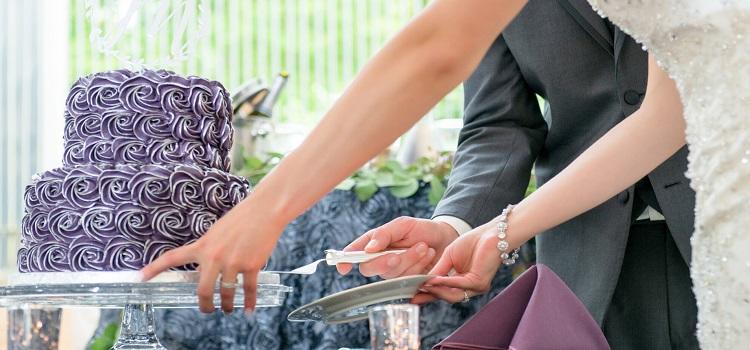 Organising a wedding cake tasting
If you are happy with the responses, quotations, flavour options and designs, then it is worth organising a cake tasting appointment as early as possible. Good cake designers diaries surprisingly get full up very quickly.As wedding cake bakers are often busy preparing and delivering their creations on weekends, you should expect that tastings may have to take place on a weekday afternoon or evening.
Wedding cake tasting cost
As a general rule, wedding cake tastings are free unless a cost is provided upfront. Cake makers expect that couples will need to try their products as the taste is just as important as the look of the finished cake.
Related articles: wedding cake designs and flavours wedding catering options hiring a caterer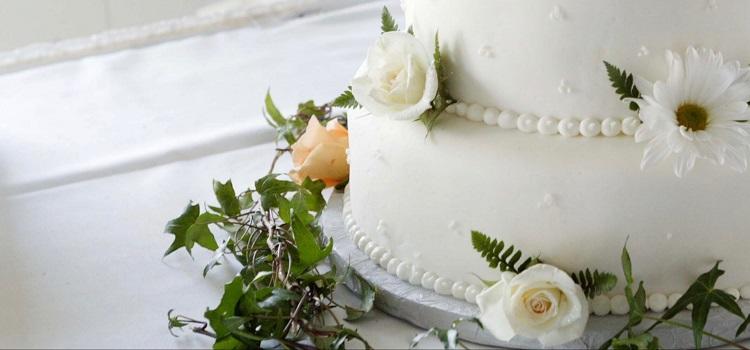 What to expect at a wedding cake tasting
Unlike other wedding suppliers, where an initial meeting does not guarantee their services, a cake tasting is taken as an implicit understanding that you are seriously considering using the services of a cake maker. Therefore, it is recommended to book with your favourite cake designer first.
Generally, at the end of a cake tasting, with flavour ideas confirmed, you can then get down to the specifics of your cake. It is a wise idea to come with some pictures/drawings of what you like and portion size. This can then start a creative conversation and is a chance to test your cake designer's knowledge and interest level.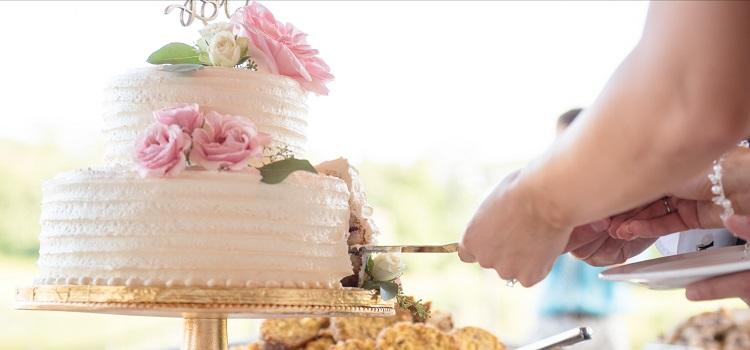 Who goes to a wedding cake tasting?
To make sure your opinions are not swayed it is best to share the tasting experience with your partner and potentially one of your parents or a close friend. This is a prime opportunity to include someone who loves cake and who is dear to you both who has a less significant role on your actual day. Cake tastings should be a fun and creative activity so it is wise to leave out anyone too opinionated.
Questions to ask at a wedding cake tasting
Do they make and design all the cakes personally?
What is their favourite type of cake to make?
What fillings do they recommend (given your favourite sponge flavours)?

Show a few of your ideas and get their recommendations
If people have allergies/are vegan/vegetarian/gluten-free, do they have options available?
A breakdown of timescales needed to confirm details and full costs
Related articles: wedding cake designs and flavours wedding catering options hiring a caterer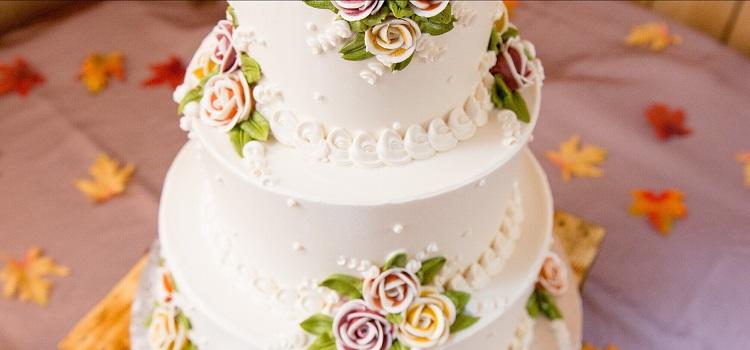 What to do if the cake tasting is not successful
If the tasting doesn't go well or you have doubts about the supplier, then you have every right to thank them for their time and outline that due to a stringent budget you will have to look at a few vendors too. Do be open and honest, where possible, as this niche market is built on trust and follow up with a polite email a few days later.
When to book your wedding cake
As this is a non-pushy wedding industry specialism, cake designers will often let you have time to go away and consider your final specifications. These are usually then filled in an order form, completed by the designer and sent back for you to check.
Deposits are often paid, but some cake designers merely run on goodwill and will only charge right before the big day. It is a thoughtful touch to pay promptly and to also contact the designer once before the big day to outline how excited you are to see their creation.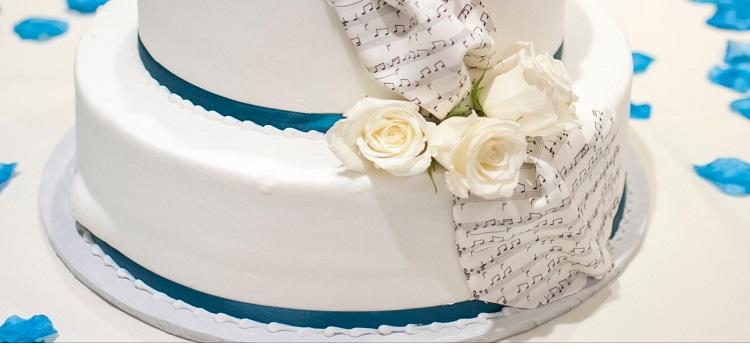 Wedding cake delivery
It is highly recommended to go for a delivery option, even if it is slightly more. Delivery will remove pressure on any of the guests to bring the cake and any potential cake disasters. The designer can then set up the cake to look its best and provide any stands needed. The wedding cake maker will also often deal directly with the venue, so you do not need even to be involved on the day until you see it in all its glory.
Related articles: wedding cake designs and flavours wedding catering options hiring a caterer