how to start searching for a wedding venue
Before visiting venues, it is crucial to decide what you want and need from your wedding venue, so you only shortlist those that meet your budget and criteria for a perfect day. This page gives a straightforward guide covering what to consider when looking for your dream wedding venue.
If you already have your venue wishlist and know where to start searching, then jump straight to our page on selecting a wedding venue.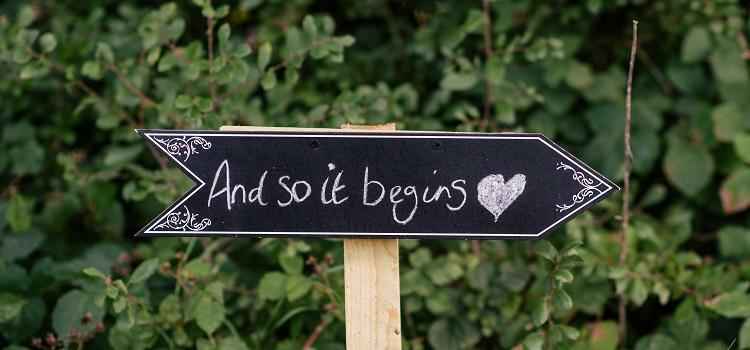 booking a wedding venue - giving notice of marriage - who to invite - wedding planning timescales
How far in advance do you need to book a wedding venue
Starting your wedding venue planning needs to take place approximately 12-14 months in advance. Popular venues will often have their calendars filling up two years in advance, and most venues will have their next year fully booked by early September.
It is particularly important to book over a year in advance if you intend on getting married between May and August (often referred to as the 'wedding season').

If you have less time to plan, it is recommended to ask for Thursday or Friday wedding or to consider searching out venues which are not on the mainstream website lists.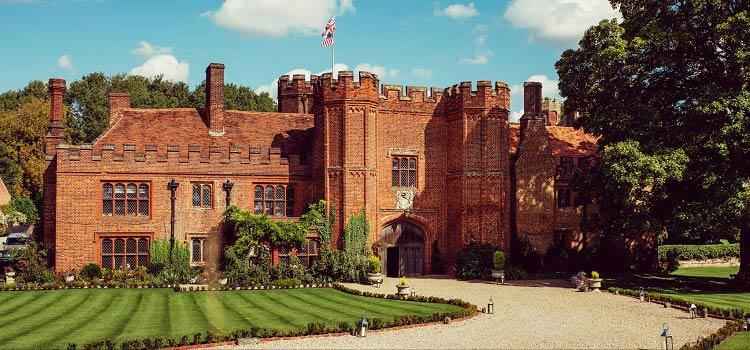 How to create a wedding venue wishlist
Agreeing on a joint wishlist will enable you, as a couple, to make more cohesive decisions when viewing wedding venues. An easy way to do this is to:
1. Make a list of your individual top three wants and top three needs from a wedding venue
2. Compare lists without judgement
3. Then discuss what a venue will need to have to satisfy both of your criteria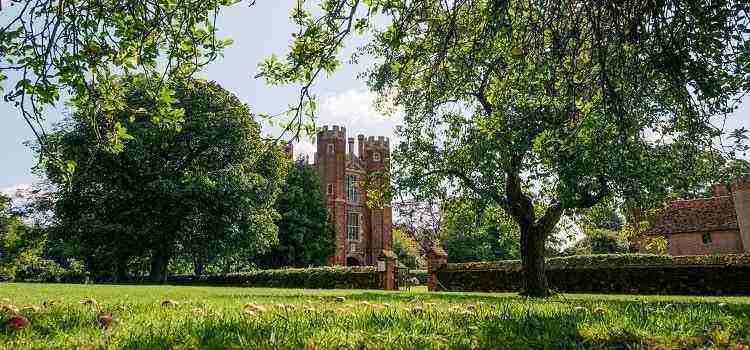 Factors to consider when choosing your wedding venue
Once you have your venue wishlist on paper, it is also worthwhile deciding on the search criteria so that you only view venues that are realistic and within your budget.

This will safeguard you both from disappointment. Below are a few wise considerations to make:
Choose a wedding location that is accessible for all
Rather than thinking about specific places, it is best to agree on a region; this will open up options you might never have considered.

A natural starting point could be; the county you live in, a location near family or a place that is special to you as a couple.
When deciding on a region do make sure to consider a) relative costs in that particular area as this will affect every aspect of the budget b) travel for guests and c) the travel you will need to do while planning.

Realistically, most couples will need to visit the venue and local suppliers between three and five times during the planning period.

If your venue is remote this can add stress and eat away at annual leave you'll want to save for the big day and honeymoon.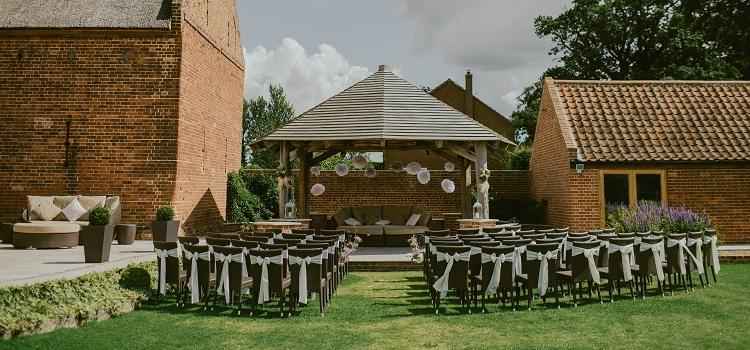 Set a realistic budget for your wedding venue
It is recommended to go for an approximation of what you can afford right now. Goodwill gifts and savings made throughout the year can be used on other aspects of your day and honeymoon.

When budgeting for a venue, it is a good idea to consider that on average a venue makes up approximately 60% of your total wedding spend (70% if catering and entertainment are included).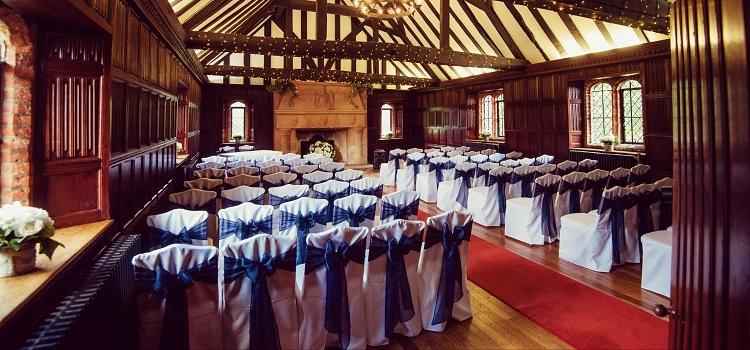 Choose the right size wedding venue
Some venues will have size restrictions or specific packages for different guest numbers, so it can be helpful to have an initial approximation on numbers when searching online or calling venues.

From experience, it is better to overestimate rather than underestimate.
Make sure the wedding venue will accommodate your choice of ceremony
Not all reception venues are licensed for wedding ceremonies. Therefore, it is crucial to include this criterion when searching online.

If you like a particular venue, but it does not have a licence for ceremonies, it is worth considering if there are any registry offices or licensed premises nearby that the venue recommends using.
If you are considering splitting the ceremony and reception venues, it is recommended to limit the distance between the locations.

As a guide, it is wise to set a 15 to 20-minute journey maximum, otherwise transport costs and logistics can become overly complicated.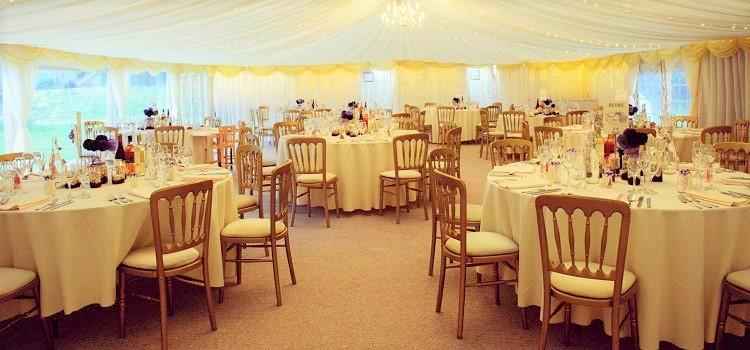 Have wedding guest accommodation at your venue
A lot of hotel venues will have enough bedrooms for all guests, and this can help to elongate the night for all. Similarly, a lot of heritage wedding venues are starting to understand the need for guest accommodation.

If your venue doesn't have accommodation, do make sure that there are a range of options close by (again the 15 to 20-minute maximum rule works well here).
Optional wedding venue considerations
Venue style:
Most couples will have a general idea of what type of venue suits them. This can help with keyword searches and when filtering down after an extensive initial search. However, it is wise to be flexible on the venue style if you have an extensive wish-list.
In-house catering vs external catering:
A significant proportion of wedding venues offer in-house catering, and this option can often be cost-effective. However, couples who have very distinctive tastes may want to have the option of external catering.

Therefore, it is vital to make sure the venues that you shortlist include your catering preference. When creating a budget, it is also crucial that the cost of catering is factored in when comparing relative venue costs.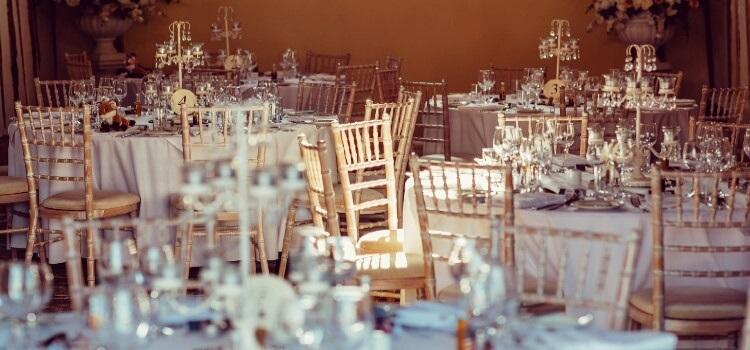 How to find wedding venues online
Starting the venue search can be immensely fun and is worth saving this step for a time when you can grab a glass of wine and sit down together.

The best way to start searching is to use an extensive locator website then follow links to individual venue websites for more details. Below are a few venue search sites, which will enable you to browse effortlessly:
Wedding Dates: A user-friendly interface with venue reviews.
Weddings Compared: A smartly designed website with useful search tool refinements and up to date venue listings.
Hitched: One of the most recognised wedding venue websites, which has extensive regional listings.
If you know your region and a few keywords, then it is also worth doing your independent search. This will enable you to source venues, which may not be able to afford/or are too new to have listings on comparison websites.