Choosing beautiful bridal shoes
If you dreaming of the picture perfect bridal shoes but don't want to end up a bare foot bride this article is for you.
Related articles: comfortable wedding shoes wedding dress shopping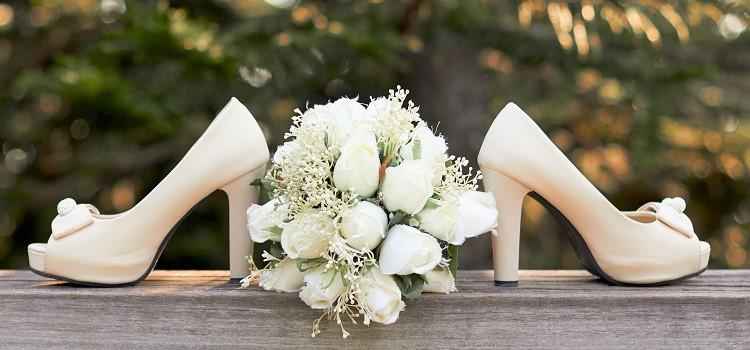 How do I choose wedding shoes?
1. Choose a height heel that you can comfortably wear all day.
On your wedding day you will be walking down the aisle, greeting guests, walking around for photos and dancing - comfort is crucial. A two to three-inch heel is a safe option for most brides, and the widest range of shoes come in these heel heights.
2. Wear bridal shoes appropriate for your venue.
If your wedding is outside with a lot of grassy areas, it is wise to opt for a wedge-style to stop you sinking into the ground. For polished wood or stone flooring, it is recommended to go for a heel with grip or to sand the sole of the shoe to prevent slipping.
3. Select season appropriate bridal shoes
For spring or summer weddings select a soft sandal or peep-toes to keep your feet cooler and comfortable if your feet are prone to swelling up in the heat. For autumn or winter weddings, bridal shoes need to be more robust to the elements and even waterproof, so a more tradition court shoe is a recommended option.
4. Colour match bridal shoes to your wedding dress
If opting for a complementary shoe then go for the exact tone of your wedding dress: White or silver shoes for a white dress and ivory or champagne shoes for an ivory dress. If you are opting for a standout colour, it is best to pick a hue or tone that will match your jewellery or bridesmaid dresses.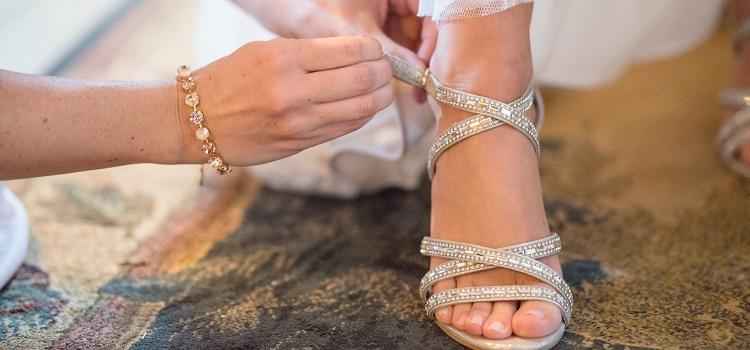 How far in advance to get your bridal shoes
Start shopping for shoes after you have picked your wedding dress, but before you have the dress fittings: This means your shoe will match your dress and then the dress can be sized to your heel height.
The best time of year to buy bridal shoes
November for the end of wedding season sales and January for high street sales. Before buying sale shoes, do check return policies and make sure to wear shoes at home in case they need to be returned within a shorter period. For trend-conscious brides, it is best to wait for March and April when the new bridal styles will flood the high-street, and there will be the most extensive ranges on show.
Popular articles: dress underskirts wedding veils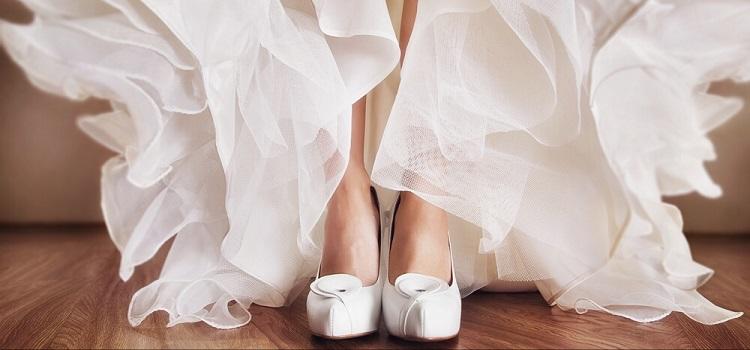 Can you wear your wedding shoes before your wedding?
When you have bought your shoes, you will have 28 days to return them. Within this month, make sure to wear the shoes around the house and make sure they are comfortable.

There are no superstitions about your husband-to-be seeing them, and if anything, it will add some wedding excitement while you are doing household chores.
Is it worth getting a pair of flat bridal shoes?
A lot of brides will consider buying one shoe for the day and a flat pair of ballerina pump-style shoes for the evening disco.

Before choosing this option, consider what the height difference will do to your dress. If it is a marginal difference, this shouldn't matter. However, if you are going from high heels to flats, this is not recommended. Where possible, to keep costs, down go for one comfortable pair.
Related articles: comfortable wedding shoes wedding dress shopping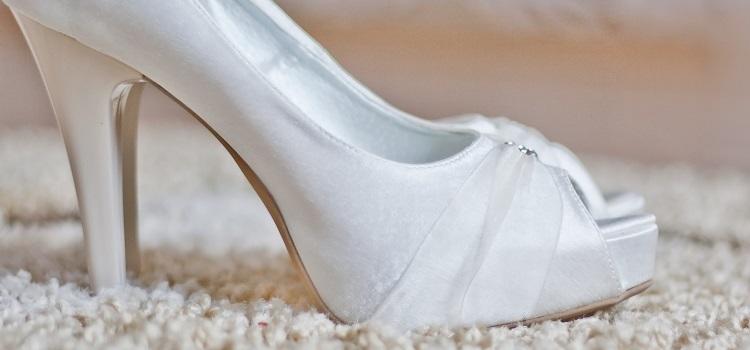 Best places to buy bridal shoes on the high street
The best places to buy bridal shoes are shops with an extensive formal shoe range, which include department stores, such as; John Lewis, Debenhams and House of Fraser, where there are lots of choices all under one roof. It is recommended to avoid specialist bridal boutiques for shoes as you will pay over the odds for similar styles to those that can be found on the high-street.
Where to order bridal shoes online
Online bridal stores can offer significant value for money, but it is much harder to trial out shoes and then return them if they are not right.

Therefore, it is recommended to hit the shops to find brands and styles that are most comfortable for you then to shop for these specific styles online. For unique and standout looks, it is worth visiting Etsy for quirky styles and ASOS for high-fashion options.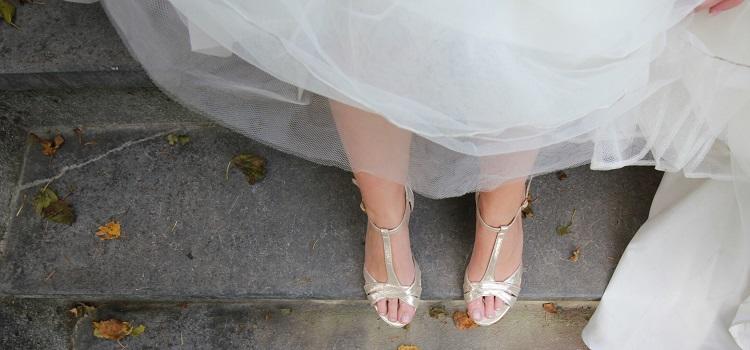 What to do if you find another pair of bridal shoes you prefer
While looking at other bridal items, it can be hard to avoid seeing other shoes, and it can be tempting to buy another pair on impulse if they look more in keeping with your style or dress.

However, before doing this, it is essential to consider that most people will automatically revert to the first pair bought.

Also, by spending extra on a duplicate here, you will waste wedding budget that could be used on other accessories that are more likely to be noticed on the day.
Next steps: comfortable wedding shoes dress underskirts wedding veils bridal Jewellery