Choosing beautiful bridal shoes
Buying a beautiful pair of wedding shoes will enhance your bridal look. Below is a guide to buying bridal shoes to ensure you look every inch the princess while allowing you to glide around in comfort all day.
When to buy wedding shoes
It is very wise to start shopping for shoes after you have picked your dress, but before you have the dress fittings. This means your shoes can be colour matched to your dress and designed in a finish that is complimentary.
Buying shoes before your dress fitting are crucial as the height alterations will depend on the shoe selected. If you change shoe choice after this point, do opt for a same sized height heel.
For brides who can't wait to select their shoe and want to do this before finding the dress, it is recommended to go for a simple style and pick a shade that will match both ivory and white dresses.
Best time of the year to buy bridal shoes
Great times of year to go wedding shoe shopping are November for the end of wedding season sales and January for high street sales. Before buying sale shoes, do check return policies and make sure to wear shoes at home in case they need to be returned in a shorter period.
For trend-conscious brides, it is best to wait for March and April when the new bridal styles will flood the high-street, and there will be the most extensive ranges to compare.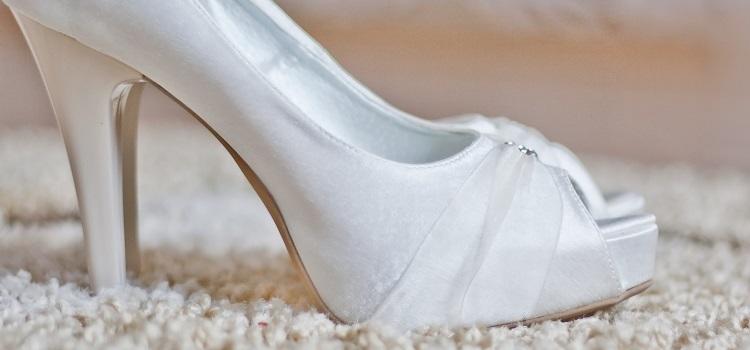 Top tips when choosing wedding shoes
Below are key considerations to make before you hit the shops to help you to make a wise decision rather than opting for a pair of bridal shoes that you will need to return.
1. Optimum heel height for bridal shoes
Wear a heel you are used to. If you do not wear heels on a regular basis, choosing a high heel may make your feet ache considerably more and will add to the walking down the aisle nerves.

Only go for height if it's needed. If not, consider the height of heel that will make you feel elegant. A two to three-inch heel is a safe option for most brides.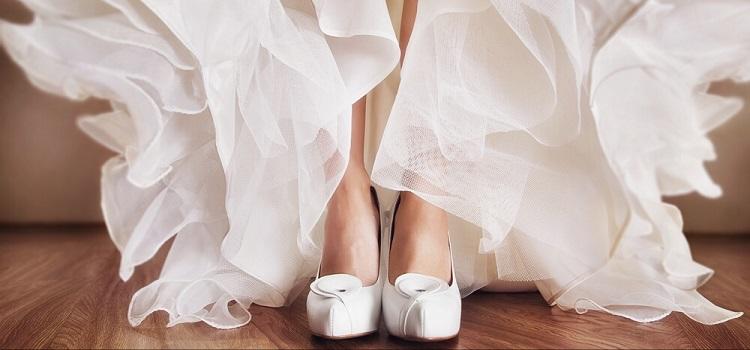 2. Match your bridal shoe to the venue flooring
If your wedding is outside with a lot of grassy areas, it is wise to opt for a wedge style to stop you sinking into the ground and having to walk awkwardly. A wedge can also be a comfortable option is you will be walking a lot.
If your wedding venue has potentially slippery flooring, such as stone or polished wood, it may be worth going for a heel with a grip or to slightly sand the sole of the shoe - no one wants to see a bride slip or rip anything on her day.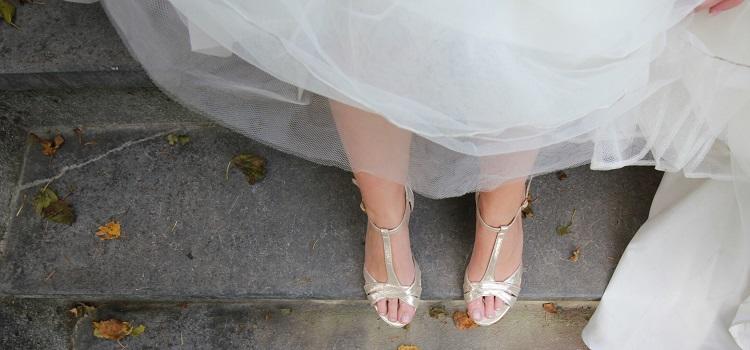 3. Select season appropriate bridal shoes
If you intend to marry in spring or summer, shoe choices are much more extensive and you may consider a sandal or peep toe to keep your feet cooler. It is also recommended to go for a softer fitting shoe with more give.
This will allow your feet to swell up in the heat without rubbing. In autumn or winter, shoes may need to be more robust to the elements and even waterproof so a more tradition court shoe is a recommended option.
4. Complimentarily vs. statement bridal shoes
Do make sure to colour match shoes. If you are wearing an ivory or champagne dress, then startling white shoes can be too stark of a contrast.

alternatively, some brides do decide to wear quite dazzling colour choices. This can show personality in some pictures. However, do expect that this will detract from your dress. Where possible, do avoid all-out bling shoes.
5. What colour wedding shoes for ivory or white dresses
The rules for matching wedding shoe colour to the dress are quite simple; if opting for a complimentary shoe then go for the exact tone of your dress: White or silver shoes for white dress and ivory or champagne shoes for an ivory dress.

If you are opting for a standout colour, it is best to pick a hue or tone that will match your jewellery or bridesmaid dresses,
Best places to buy bridal shoes on the high street
It is recommended to avoid specialist bridal boutiques for shoes as you will pay over the odds for similar styles to those that can be found on the high-street.

The best places are shops with an extensive shoe range, which include department stores such as; John Lewis, Debenhams and House of Fraser where there are lots of choices all under one roof.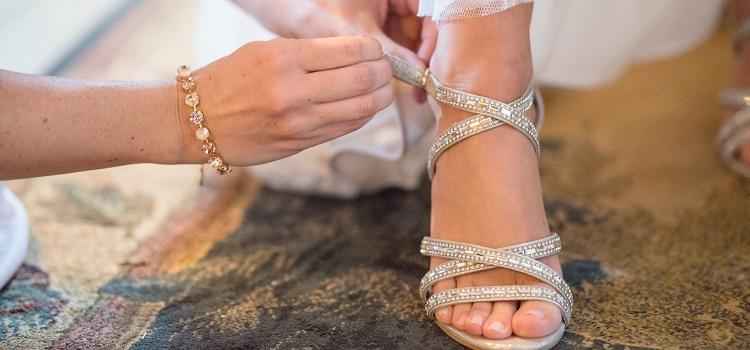 Where to order bridal shoes online
Online bridal stores can offer significant value for money but it is much harder to trial out shoes and then have to return them.

Therefore, it is recommended to hit the shops to find brands and styles that are most comfortable for you then to shop for these online. For unique and standout looks Etsy and ASOS provide great online alternatives.
Specialist bridal shoe brands
While most brands offer a bridal range, there are a few specific shoe companies that have cornered this niche market.

These brands are specifically designed to the exacting needs of bridal style and comfort but can be more expensive than high street shoes. One brand online and in the department stores to look out for are Rainbow shoes.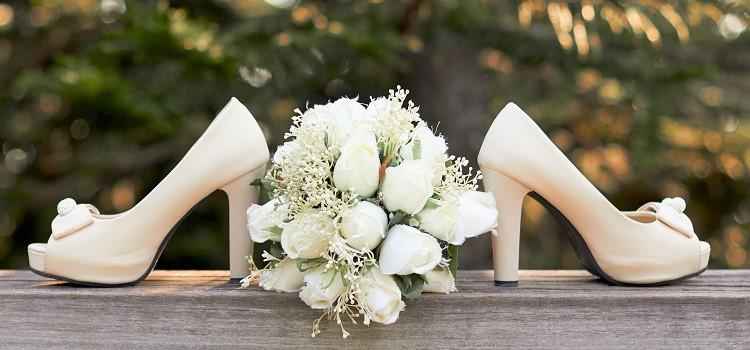 How to make sure you've picked the right bridal shoes
When you have bought your shoes, you will have 28 days to return them. At this time do make sure to wear them around the house and make sure they are comfortable.

There are no superstitions about your husband to be seeing them, and if anything, it will add some fun when you are doing household chores.
Is it worth getting a pair of flat bridal shoes?
A lot of brides will consider buying one shoe for the day and a flat pair of ballerina pump style shoes for the evening.

Before choosing this option, consider what the height difference will do to your dress. If it is a marginal difference, this shouldn't matter.

However, if you are going from high heels to flats, this is not recommended. Where possible, to keep cost and effort down just go for one comfortable pair.
What to do if you find another pair of bridal shoes you prefer
While looking at other bridal items, it can be hard to avoid seeing other shoes, and it can be tempting to buy another pair on impulse if they look more in keeping with your style or dress.

However, before doing this, it is essential to consider that most people will automatically revert to the first pair bought.

Also, by spending extra on a duplicate here, you will waste wedding budget that could be used on other accessories that are more likely to be noticed on the day.
wedding shoes: Comfort tips for the bride on the day
To ensure that your feet keep going until the early hours of the morning on your big day follow these top tips:
Pack a few blister plasters in your handbag or ask a bridesmaid to store them just in case
Put on your bridal shoes on at the last opportunity, so your feet get as much relaxation as possible
Avoid doing too much of a pedicure before the day as removing too much hard skin may remove natural blister barriers
Have a pair of tried and tested flats to change into if needed.